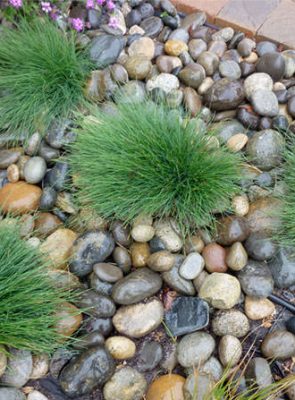 Blue Fescue (Festuca Glauca)
Originally from Europe, Blue Fescue has become a popular ornamental grass in Northern California. They can withstand a variety of weather conditions, and sometimes decide to show off their fancy flower.
Where They Do Well:
As long as there's good drainage, they'll be happy in both warm and cold conditions, include windy atmospheres. Its drought tolerance makes blue fescue a great plant for gardens in generally poor soil. Planting it correctly and giving your lawns an occasional drink will help ensure they stay vibrant shades of blues that match any garden aesthetic!
If you're looking for an ornamental grass that can take the heat, look no further than blue fescue. This California native is perfect for gardens in hot, dry climates. Blue fescue is easy to care for and drought-tolerant, making it a great choice for low-maintenance landscapes. Plus, its striking blue foliage adds interest and color to your garden all year long. So if you're looking for a beautiful and tough grass to add to your landscape, consider blue fescue.
Maintenance:
They'll require moderate to regular watering. They may need possible replacement after several years, as with most ornamental grasses.