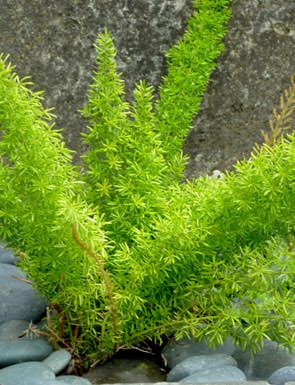 Asparagus Fern (Asparagus Densiflorus )
AKA "Myers"
The Asparagus Fern is also referred to as Foxtail Ferns, which makes sense once you get a look at them. Native to South Africa, these ferns aren't big fans of frost or severe cold. Our moderate climate is a great place for them to thrive.
Where They Do Well:
The Asparagus Fern likes sun or partial shade, and are just as happy in the ground as they are in containers. They grow rather slowly to about 3 or 4 feet in width.
Asparagus ferns are known for their long, uneven stems that look like they've been painted with an artist's brush. These plants prefer warm and humid conditions (about 70°F) but can withstand temperatures below 55 degrees Fahrenheit if given enough sunlight or Shelter from direct sun exposure
Maintenance:
We'll make sure the Asparagus Fern is planted in well drained soil, so you can water them regularly. They get fed in the Spring and give them a good trim to make room for new sprouts. Asparagus ferns need a lot of nutrients to grow well. They prefer warm and humid climates (about 70°F) with plenty water, but they cannot tolerate low temperatures below 55 degrees for long periods of time