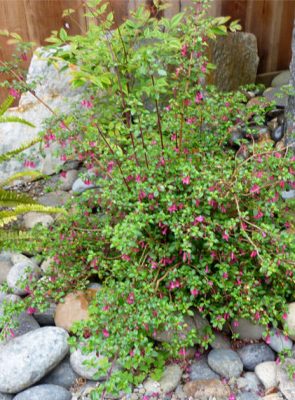 Fuchsia (Fuchsia Thymifolia)
Originally from Mexico, this species of Fuchsia has become quite popular in Japanese gardens and as bonsai. They produce tiny white and pink flowers that attract hummingbirds and are resistant to gall mites, common pests on Fuchsia plants.
Where They Do Well:
They grow best in cool summer areas (perfect for San Francisco) and like moisture in the air and soil. They are known for their brightly colored flowers which typically bloom from early summer through fall. Fuchsias are relatively easy to care for and make excellent additions to any home garden.
Maintenance:
It'll be easy to maintain these on foggy days, allowing you to feel comfortable with them planted in your garden. Fuchsias like regular watering and we'll make sure they're protected from any major winds. They need very little trimming, unless you're feeling like making a bonsai. Plus, they're relatively easy to care for, so even if you're not a green thumb, you can still enjoy their beauty.