Landscaper in San Francisco, Specializing in Japanese Garden Designs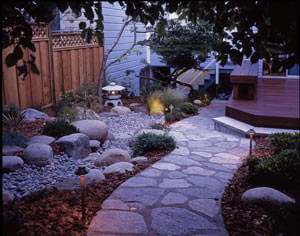 We find our inspiration in the serenity of Asian and Japanese garden designs — the subtle interplay between shade and light, stone and plants, dense plantings and open space. Our solutions meet the needs of clients who are seeking tranquility in their San Francisco yards, a refuge from the hectic pace of their daily lives.
Every project is different. The first step is meeting with you and listening to your needs, goals and budget. Second we survey the site, develop a feel for the terrain, surrounding environment and the existing infrastructure. Next we acquire materials we know by experience will thrive and endure in San Francisco's unique microclimate.
By integrating systems such as automated irrigation, outdoor lighting, firepits and water features, we complete each Japanese garden design knowing that the client will derive maximum enjoyment from their garden, day or night, in all seasons, with a minimum of maintenance.   
Tamate Landscaping is fully licensed from the State of California and offers the following services:
For a free estimate, contact our skilled landscaper in San Francisco, experienced in Japanese Garden design, water features such as Koi ponds, practical and decorative retaining walls, and more.