If you live in California, then you're no stranger to drought-tolerant landscaping. It's a great way to reduce your water usage, save money, and help the environment. The State of California has reported the "Driest winter months in 100 years mark third year of drought. January, February, and March had the least rain and snow on record for any of these months in California."
Does this mean that my green outside living space is a no-go? Not necessarily!
Drought-tolerant landscaping can be beautiful, and with a little creativity, you can create a stunning outdoor space that is both easy to care for and environmentally friendly.
By incorporating drought-tolerant or water-wise landscaping designs and/or techniques, you can mitigate the impact of water usage. Here are four solutions Tamate Landscaping have incorporated in a multitude of our projects in the last 25+ years of designing and installing in the San Francisco area.
Even in times of a severe drought, you can still have beautiful, landscaped yards by rethinking the way to design and install a landscape. Your outside living space does not need to be a barren Mojave Desert (unless you want it to be)!
Rock Gardens
Rock gardens are an obvious drought-tolerant option. It is amazing how you can simulate the look and feel of a riverbank with the expert placement of stones, rocks, and/or boulders.
Another aesthetic factor about rock gardens is they're a great way to add interest to your landscaping with little to no maintenance, and of course, very little water!
By choosing drought-tolerant plants and using rocks and boulders to create Asian aesthetics & ground cover to save water/maintenance. Ultimately rock gardens are both beautiful and functional.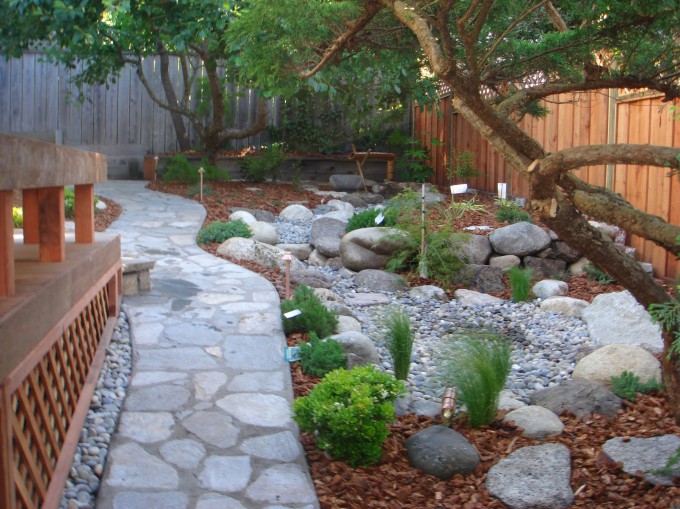 The goal is not to completely cover the ground but rather to create pockets of green in a sea of stone. With creativity and planning you can design a rock garden that is both aesthetically pleasing and drought resistant.
Proper placement of ornamental boulders in a landscape is another option. Boulders, along with the use of riverbed stones for covering larger areas significantly reduce water use and provide for a clean, modern-Asian look as shown below in our project on Wawona Street.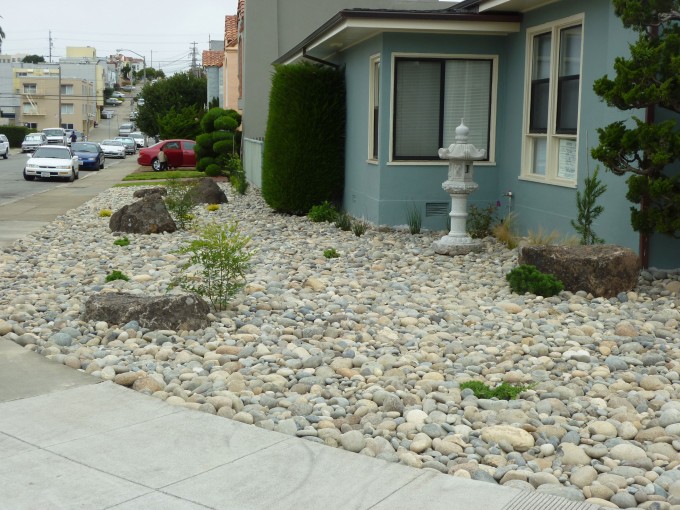 Lawn Alternatives
While a natural living lawn is stunning when properly maintained, it consumes a lot of water and requires continual maintenance and care. However, grass requires regular watering, mowing and fertilizing to avoid brown patches, so it is not always the most reliable ground cover. It can be easily damaged by heat, cold, and drought.
For homeowners who are looking for a low-maintenance and alternative to traditional grass, artificial turf may be the answer. Once only considered for professional sports fields, the natural look and quality of artificial grass has dramatically improved throughout the years and has become a green alternative to homeowners.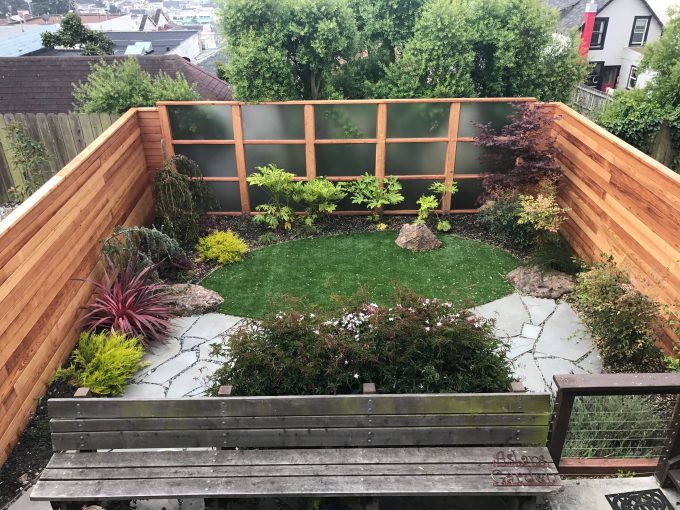 Quality artificial grass can last for more than 15-20 years with little maintenance, and no water! Not only will it help with water conservation (and cost), but it will continue to maintain its vibrant green color with no mowing or fertilizing required.
Artificial turf is made from synthetic materials that mimic the look and feel of real grass, but without the need for regular care. It is also more durable than natural grass, making it ideal for high-traffic areas.
So, if you're tired of fighting a losing battle against your lawn, consider artificial turf as a long-term solution. See globalsynturf.com which we've used in some of our prior jobs.
Drip Irrigation
Drip irrigation is an efficient watering system that can be used for a variety of purposes, from agriculture to drought-tolerant landscaping. It saves water by lessening water run-off, eliminates evaporation loss, waters plants directly to root zones, and maintains enhanced moisture levels by allowing soil to better absorb water. It works by delivering water directly to the roots of plants through small, perforated holes in a hose or tubing. This method of irrigation is much more efficient than traditional sprinklers, which lose a large amount of water to evaporation and runoff.
Drip irrigation is determined by the plant type and water needs. Drip emitters are spaced at regular intervals or plants with different zones can have individual emitters if needed. In addition, drip irrigation can be programmed to run on an automatic timer, making it a convenient and low-maintenance option for busy gardeners.
With its many advantages, it is no wonder that drip irrigation has become one of the most popular watering methods among gardeners and farmers alike.
At Tamate Landscaping, we've installed drip irrigation systems in all our landscapes which required irrigation and where a drip system could be implemented.
Gray Water Systems
Gray water is defined as water that contains some soap, but clean enough to water plants. This water is generated from showers, bathtubs, washing machines, and bathroom sinks.
This system capture and direct water from identified plumbing waste lines to a separate landscape irrigation system. For example, at Tamate we have used the laundry-to-landscape (L2L) system. This system captures washing machine gray water and allows the gray water to be directed to either the landscape or sewer using a 3-way diverter valve.
Although we at Tamate landscaping have used the Urban Farmer L2L system there are other L2L systems. Typically they consist of three main components: a Washer Box, a Pump, and a Distribution Network. The Washer Box collects the gray water from the washing machine and pumps it to the distribution network, which is a series of hoses or pipes that deliver the gray water to the landscaping area.
When looking at this option it's important to select the right components for your landscaping and situation to ensure the system works properly and does not damage your plants.
Urban Farmer offers a L2L gray water starter kit that uses washing machine water to the landscape. L2L systems are normally the easiest to install and lower in cost than other gray water systems from showers, bathtubs, and bathroom sinks.
At Tamate Landscaping we work hand in hand with our clients to ensure we're enhancing their living space, and using responsible green, organic, drought tolerant solutions for your landscaping needs. Send us an email, and we can help you create your ideal drought -tolerant landscaping needs.