Who's not feeling the pinch of inflation these days? Gas prices are through the roof, grocery costs are making eating out more desirable, and from a landscaping perspective lumber prices are out of this world! In times like these, anywhere you can save a few bucks makes a difference.
If you're looking into replacing or installing outdoor landscape lighting, that are eco friendly, then LED fixtures are the way to go if you want to save money. They're energy efficient and therefore the cost effective choice, not to mention other great advantages like being environmentally friendly, while doing your part in the renewable energy commitments.
Also, many incandescent and halogen products will be phased out by August 2023 due to a May 2022 Department of Energy ruling requiring lighting products to be energy-efficient. Wow, did the Feds actually make a decent decision this time? Looks like it.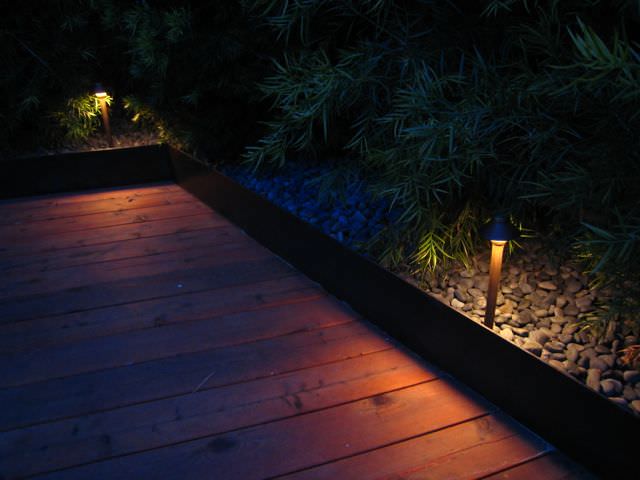 What is LED?
First off, what is LED? LED stands for light-emitting diode. An LED is a semiconductor device which generates light when an electric current is passed through it. This is in contrast to halogen and incandescent bulbs which heat a filament to produce light. While LED technology developed in the early 1960s, it did not become widely used until recently. Currently in its third-generation of LEDs, this latest generation of light bulbs, lasts longer and performs better than other lighting sources.
In this blog post, we'll explore some of the reasons why LED lighting is becoming increasingly popular as a must fixtures in your landscape:
Cost Effective Due to Energy Efficiency
The following is a list of reasons to invest in led lights over traditional bulbs:
1)Are up 80% more efficient than the competition
2)Have a long lifespan
3)Can last for 20 000 hours
That's why we recommend them as an excellent choice when looking towards living a sustainable model and energy efficient homes.
Furthermore, since 95 percent of the energy in a LED light is converted into light (5 percent converts to heat), the light fixture stays cool. The cooler temps of the LED light fixtures thereby also reduce the risk of fire hazards and are safer to handle. This is contrasted to incandescent and halogen lighting which converts around 90 percent of energy to heat and only 10 percent into light. So while LED lights are generally more expensive upfront than traditional lights, it is obviously the better option in the long run (plus you won't have a choice mid-2023 anyway).
Longevity
Adding to the energy efficiency savings above, you will also save money due to the durability of LED lights. LED lights can last up to 20 years, running on average of eight hours per night. They can also stand up to shock, vibration, and fluctuations in temperature better than traditional lighting.
Longevity is an important factor in the overall cost efficiency of a building. Not only are LED lights more energy-efficient, but they also last longer than traditional lighting methods which saves money because you won't have to replace them as often!
LED lights are so much more than just a fad! When installing landscape lighting, there's no superior technology that will save you both time and money because they last longer than traditional methods. They're also eco-friendly, high efficiency, which makes this the perfect opportunity to try out some green lighting in your home or office space today.
Earth-Friendly
LED lighting is the environmentally friendly choice, as it reduces wasted energy. Less energy leads to a decrease in greenhouse gas emissions or a reduced carbon foot-print. Furthermore, LED lighting do not contain toxic chemical like mercury that can contaminate the environment. As an added plus, LED lights do not radiate ultraviolet light. Since LEDs do not emit UV light which attract insects, fewer bugs will be present in your yard. Now, that's a win-win!
Illumination
Not only do LED lights reach full white light brightness immediately, they also have a better quality of light distribution. LEDs focus light in one direction as opposed to other types of lighting which waste energy by emitting light in all directions. This allows the lighting to be more focused on specific objects instead of lighting entire areas. More dramatic effects can be created by accenting specific landscapes and adding deeper visual contrasts.
FXLuminaire is a great source for LED landscape lighting fixtures and provide a wide range of premium landscape lighting including up lights, path and area lights, down lights, well lights, wall and step lights, and underwater lights. Check out their website for an array of LED lighting options.
Conclusion
Adding LED lighting to your outdoor living space can dramatically enhance your curb appeal and also improve safety and security.
Outdoor lighting and lighting technology, has come a long way in recent years, we've been at the forefront of incorporating these new technologies into our projects. We've had great success using LED lighting fixtures from FXLuminaire, and we're confident that you will too.
If you're thinking about adding some outdoor lighting to your home or business, contact us. We'd be happy to provide more details about the products we use and how they can benefit you.