Living in San Francisco, you know parking is a hot commodity. Whether you're looking to add curb appeal or want a more efficient way to get in and out of your driveway, landscaping is a great solution. According to recent trends, driveway landscaping is becoming increasingly popular among San Francisco homeowners.
How many times have you driven across town to a restaurant, only to do endless circles looking for parking, and then return home in disappointment? Or maybe you at least got take out. The cost of living in our beautiful City by the Bay!
If you're lucky enough to have a driveway that you can park on, you know that you possess prime San Francisco real estate. With such valuable property in your back pocket, don't let it go to waste. Beyond the utilitarian use of a driveway, there are numerous ways you can get both function and fashion. Not to mention increase the resale value of your home. Driveway landscaping can significantly transform your curb appeal!
Here's a few ideas:
Upgrade Your Driveway with Interlocking Concrete Pavers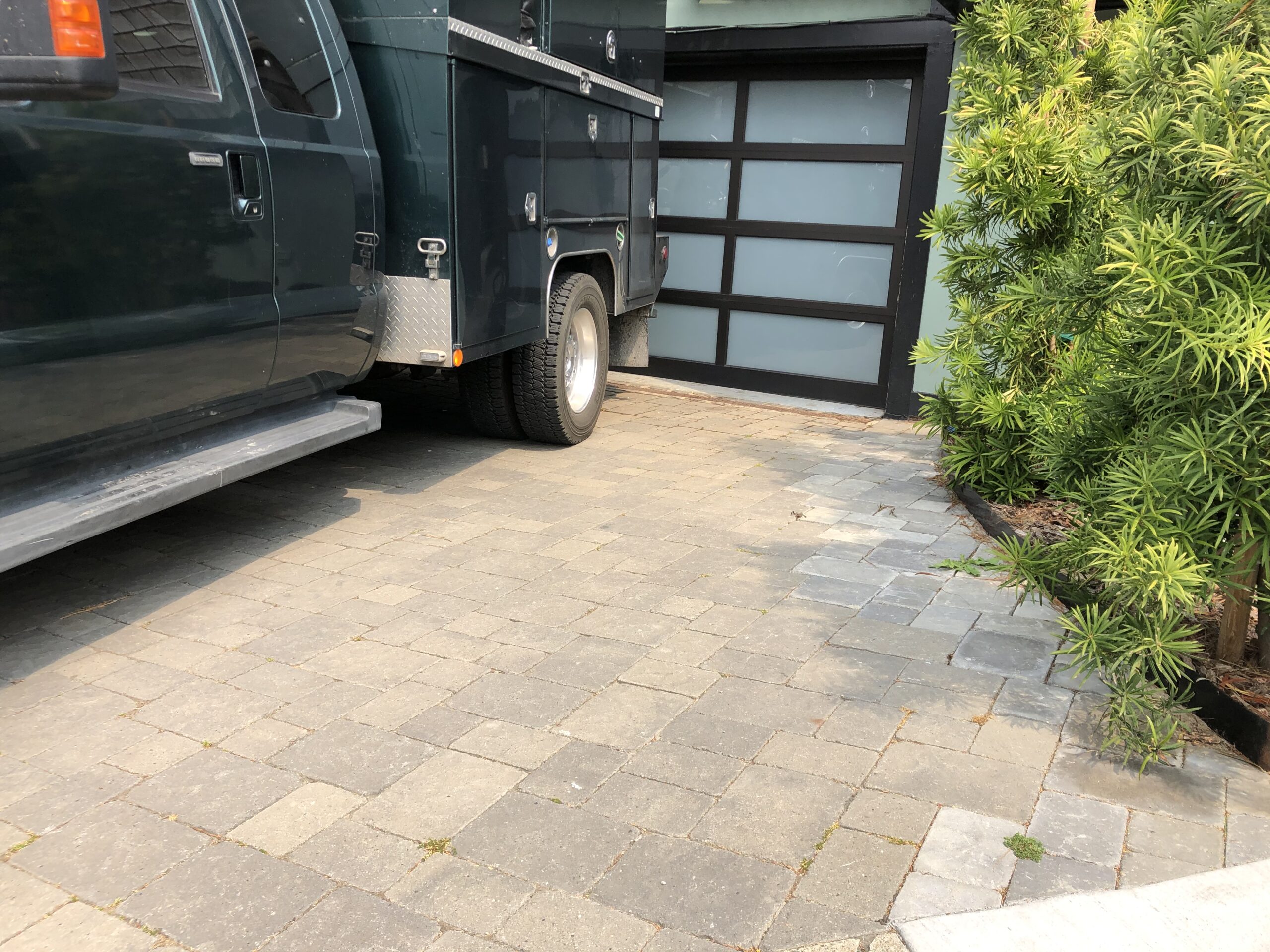 Many of the driveways in San Francisco have that—should I say—"well-used" look because of the wear and tear over time. These battered driveways have unsightly cracks, uneven surfaces, buckling, and other glaring cues that they are in dire need of an overhaul. While replacing your driveway with concrete will definitely improve the look and function of your driveway, we recommend upgrading to interlocking concrete pavers.
Pavers or Concrete
What are interlocking concrete pavers? Each paver is made of concrete and is available in different shapes, sizes, and color. After the base area is properly graded and covered with base rock, the paver borders are laid and the pavers are arranged into the selected pattern. Edge restraints may be used, if needed, and the joints are filled with sand. These elements, when properly installed, formulate the interlocking paver system.
Initially, installing interlocking concrete pavers for your driveway is more expensive than concrete. Over time, pavers will outlast concrete. They are more durable and less likely to crack, they will dramatically improve your curb appeal. In the long run, pavers are a better buy since they last longer, are easier to repair. The timeless, classic look will increase your property value.
Concrete, while very strong, will typically crack over time due to moisture and temperature changes which cause the concrete to expand and contract. In order to repair your cracked concrete driveway, you need to rip out sections (or the entire driveway) and replace it with a new one. Band-aiding the cracked concrete will not only look horrible, but it will likely lead to more damage over time.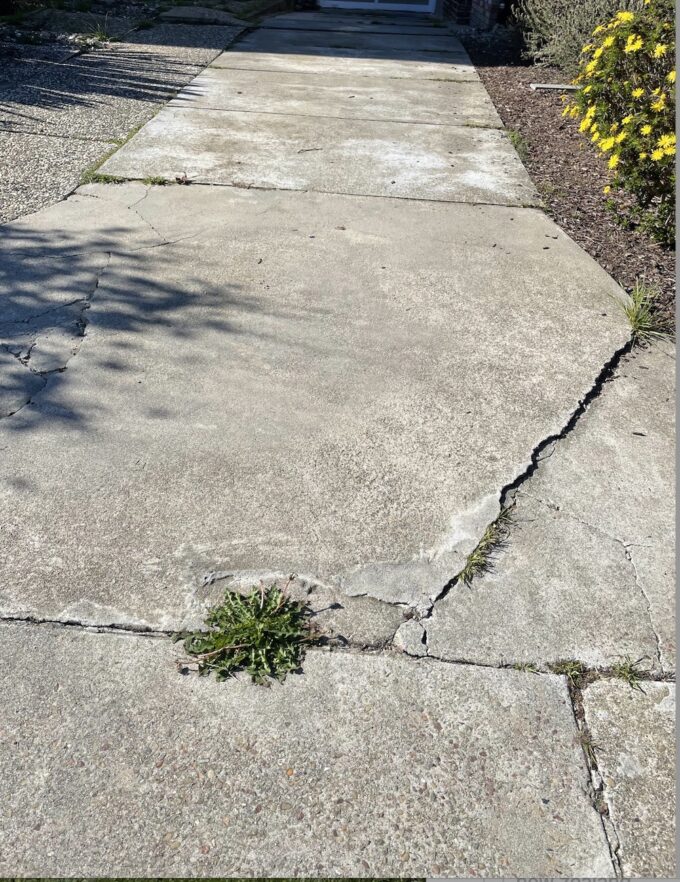 Pavers, on the other hand, if damaged, can be easily removed and replaced. By simply replacing the damaged pavers, your driveway will look untarnished like it did previously. They also require minimal maintenance if installed properly.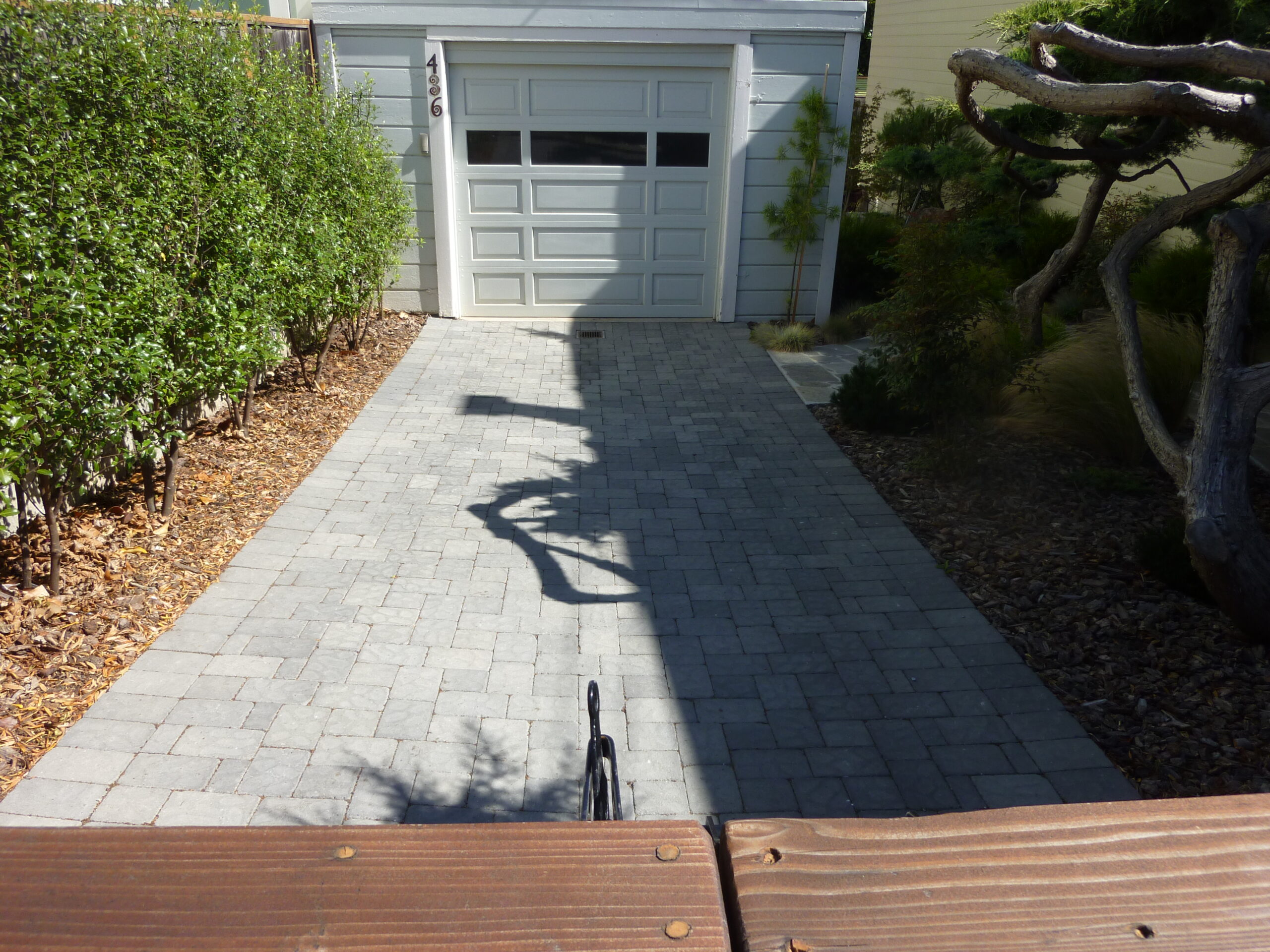 Pavers offer numerous design options since they come in many styles, shapes, textures, and colors to choose from. Check out McNear pavers for an array of paving options. They can transform your curb appeal from a plain gray cracked concrete slab to a beautiful hued, textured, and slip-proof area. Driving up to and stepping in and out of your car onto a driveway of pavers will definitely be a warm, elevated welcoming compared to stumbling over the cracks in your broken concrete driveway.  
Driveway Landscaping Border
Now that you have a beautiful, functional driveway, accenting the landscape around it will transform your front area into a new dimension. Landscaping the border of your driveway with sustainable plants will harmonize the hard and soft elements of your front area.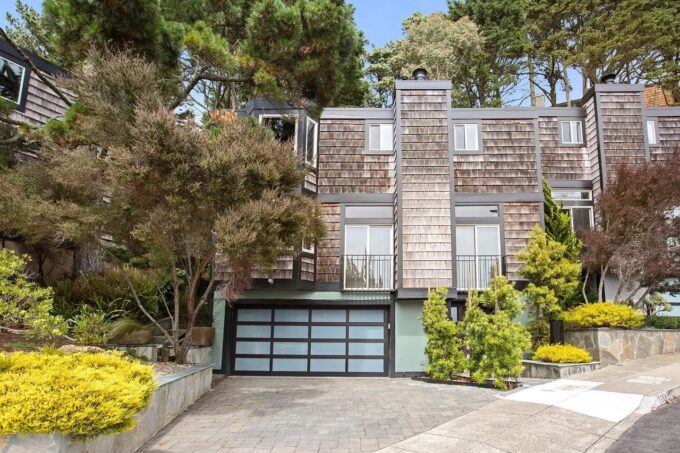 For more separation or screening, a hedge, bamboo, or trees can be used along the driveway.  At our former residence in Diamond Heights, Paul planted some bamboo alongside the driveway to provide a screen for his work truck (which eventually was changed out to podocarpus gracilior). With upward lighting, the bamboo screen was not only functional, but dramatic at night!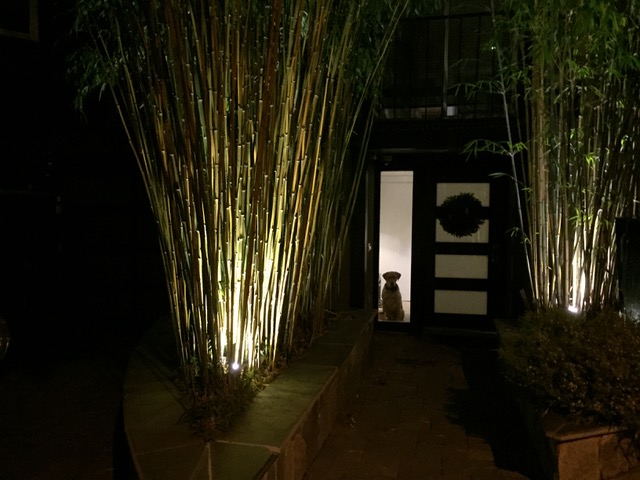 Driveway Landscape Lighting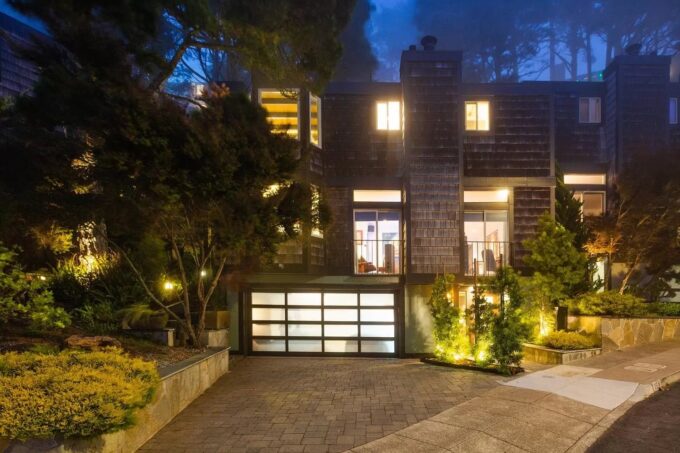 For a stunning addition, consider adding landscape lighting around your driveway. Not only does this add elements of safety and security to your home, but brings extraordinary drama to your front driveway landscape at night.  
With a variety of lighting fixtures to choose from, you can create an infinite number of night time driveway landscape designs. If you want a more linear appearance, you could add pathway lights along the driveway for better visibility and a clean look.  
Lighting Your Driveway
For a more subdued, tranquil look, lighting landscape elements around the driveway provides for an indirect approach to light up your driveway area. Uplighting of surrounding plants or trees produces a great indirect lighting effect. Or spotlighting certain landscape elements that you want to showcase will bring both drama to that area, plant, or backdrop and indirect lighting to the surrounding landscape.  Even just adding a light to the interior of a stone lantern would generate soft lighting and drama. The possibilities are endless!
Tamate Landscaping has installed numerous driveway landscapes during our 25+ years in business. If you want to miraculously transform your cracked and dull driveway landscape to a beautiful yet functional space, please contact us to discuss your driveway landscape options.