For this project, we moved over to the Saint Francis Woods neighborhood of San Francisco. This boulder wall makeover project included two main front yard components: (1) replacing the old boulder wall with a new one and (2) incorporating a dry creek.
Previously, our client contacted us for a similar or same layout, but it did not go forward. As our client was retired and had time, he decided to build the boulder wall on his own. To his dismay, the types of boulders selected were simply too small. The end result was a run-down, tired-looking stone wall.
Also, the client's selected plants were not properly placed. The added plants made the already tired boulder wall even more unbalanced. In other words, the front yard was in dire need of a makeover!
So, a few years later, we were contacted by this client to install what was originally planned. Here's how the installation went this time, but by Tamate Landscaping.
First, We "Disappeared" the Old Wall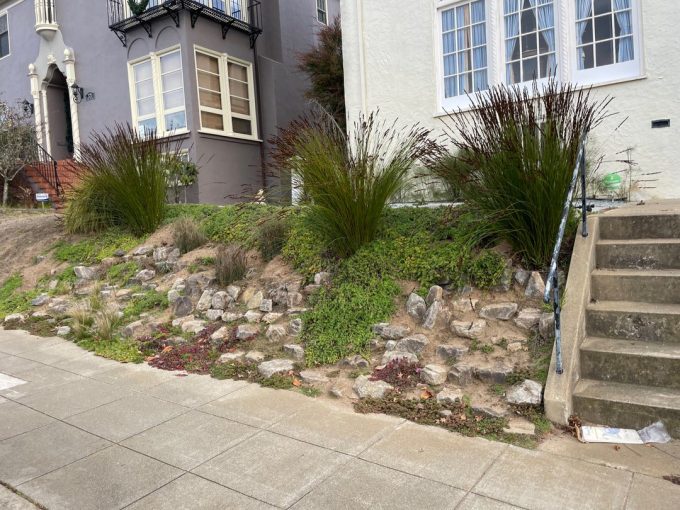 First and foremost, we had to "disappear" the old boulder wall that was installed by the client. Also, those misplaced and overgrown plants were removed.
The demo process went quickly and we were done in a couple of hours.
Boulder Selection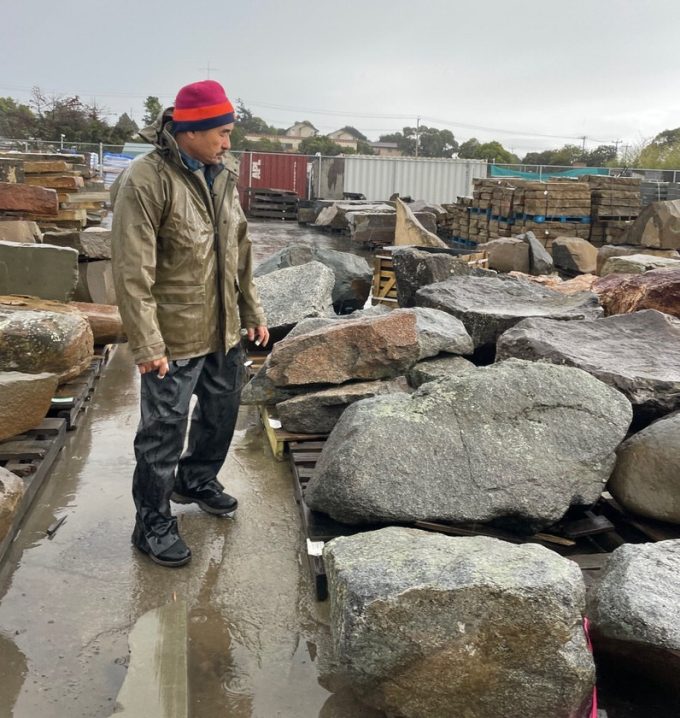 In anticipation of this project, Paul drove over the Bay bridge to American Soil and Stone in Richmond. American Soil & Stone carries an array of rocks and boulders and even has its own stone fabrication machines for custom cuts.
After carefully scanning the available boulders, Paul made his selection for the Saint Francis Woods project.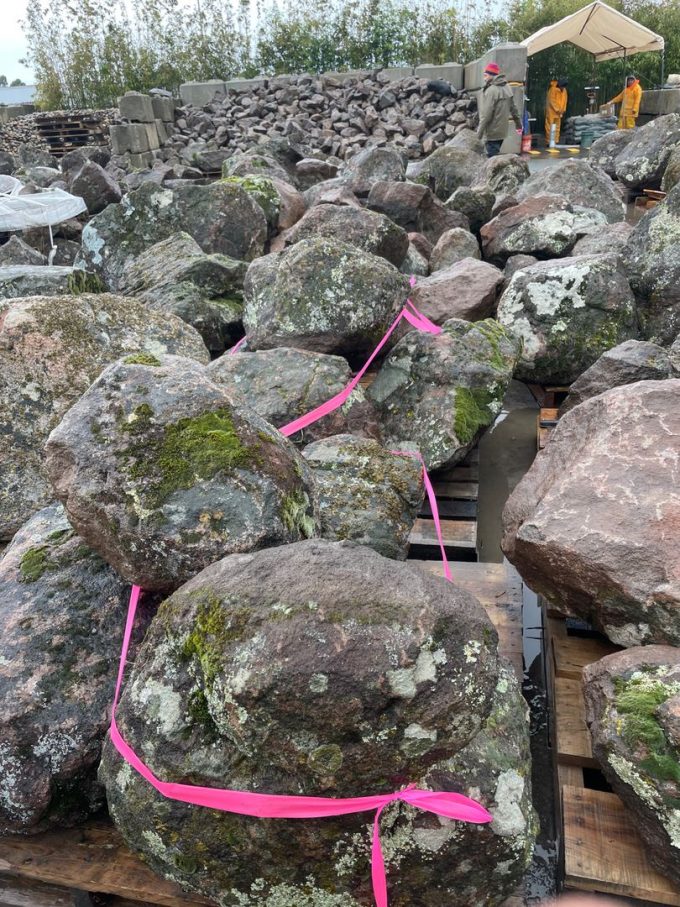 Boulder Wall Installation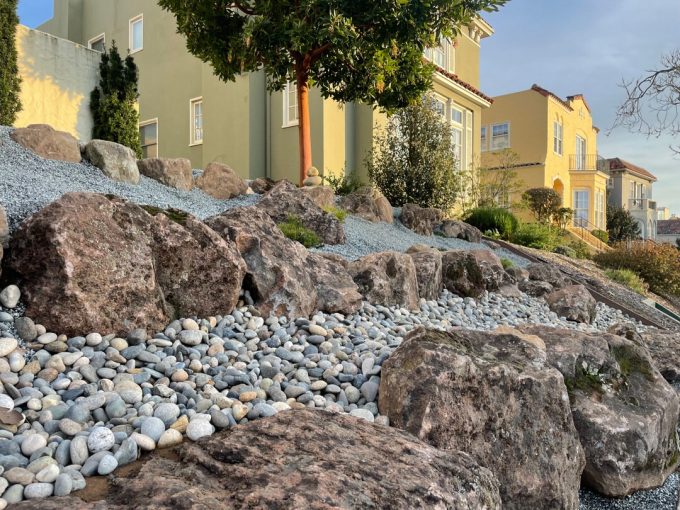 Next, is the fun part (according to Paul) since big machinery is involved. In planning for this project, Paul rented a telehandler forklift to properly place multi-ton boulders in our client's front yard.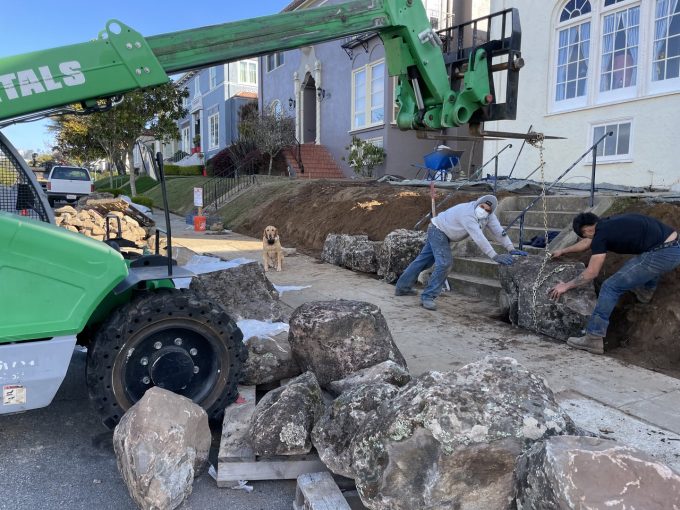 With the aid of the forklift, we carefully placed each boulder along the hillside to act as a boulder retaining wall and to replicate a dry creek.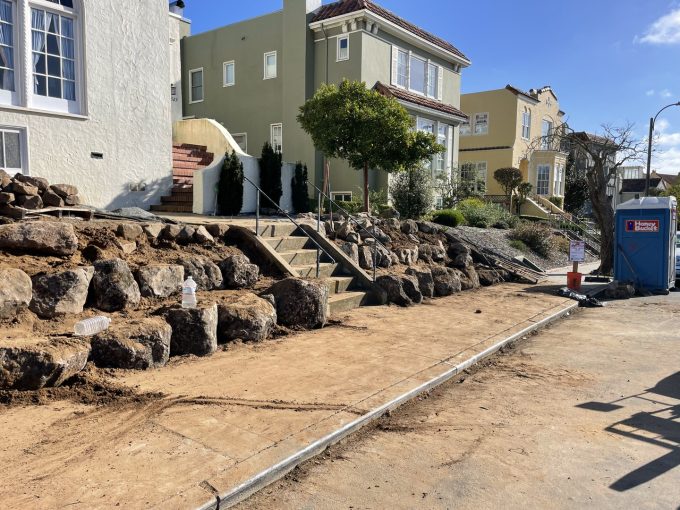 Gopher Proofing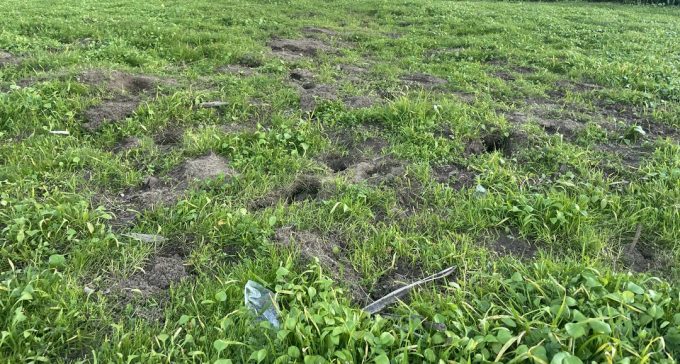 If you've walked or driven around the Sunset neighborhood of San Francisco, you've probably seen numerous small mounds of dirt scattered or even consuming people's front yards. Yup, those are gophers! Remember Caddy Shack.
With this type of sandy soil, those somewhat cute, but pesky gophers could become an issue.
To repel the gophers from invading the yard, covering your area with wire mesh, chicken wire, does the trick. However, please note that this just sends them over to your neighbor's yard, if they haven't installed wire mesh gopher wire over their soil. Well, at least your yard will be ok.
Similar to the Sunset district, the soil at our client's Saint Francis Woods area of San Francisco was a mixture of dirt and sand. Therefore, we covered the exposed ground with galvanized wire mesh to prevent gopher intrusion.
Dry Creek and Plant Installation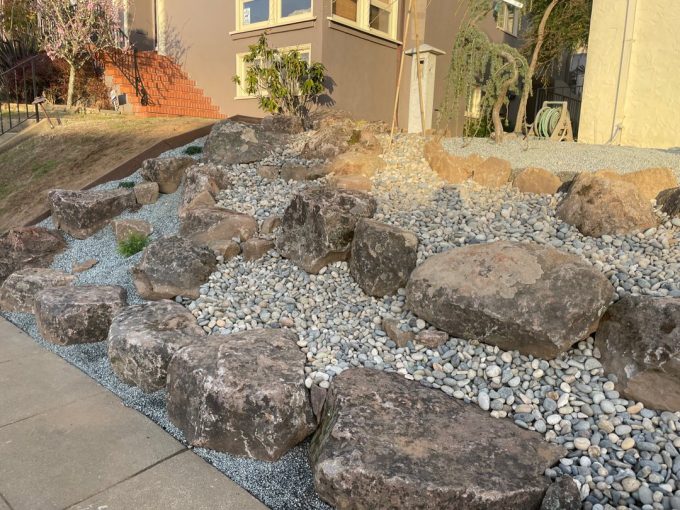 In setting the stage for the dry creek, we installed weed control fabric also known as landscape fabric over the wire mesh. The landscape fabric will aid in the shifting of river rock and crushed granite that will be used to simulate the dry creek river bed.
Once the landscape fabric was placed, we poured the river rock and crushed granite over the fabric.
Finally, we added a few plants to complete the boulder landscape. This included the captivating Weeping Blue Atlas Cedar in serpentine form, in addition to Mugo Pine, Mondo Grass, Japanese Garden Juniper, Breath of Heaven, and Chinese Fringe.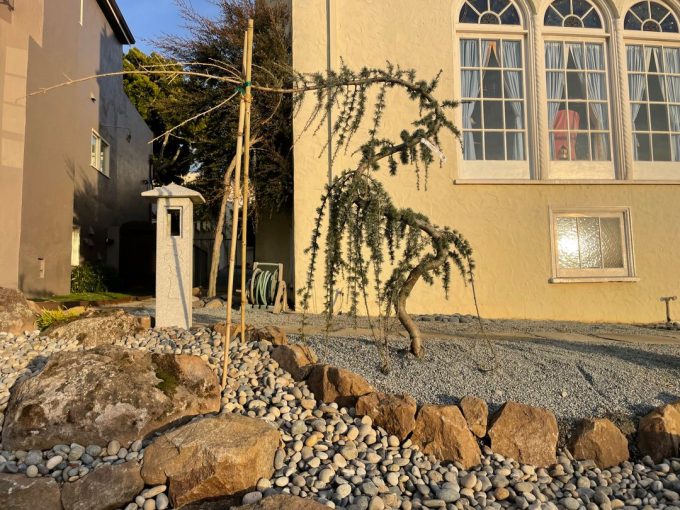 Conclusion
To wrap up our front yard project in San Francisco's Saint Francis Woods neighborhood, we believe that replacing the old boulder wall and installing a dry creek in its place was a great decision for the homeowner. Not only does it give a much better look to their front yard but also it improves drainage issues, making their property safer and more secure.
This is just one example of how Tamate Landscaping can help you create an aesthetically pleasing outdoor living space from start to finish. Review our landscaping portfolio and you'll find there's no job too big or small for us.
We do it all, from surveying to design, installation, and completing projects. So don't hesitate if you want to improve your front yard, back yard, side yard (or whole yard!) outdoor living environment.
Our team of talented professionals will provide all necessary services each step of the way with quality and care unmatched by any other. Contact us today; we look forward to partnering with you in making your dream outdoor space become a reality!