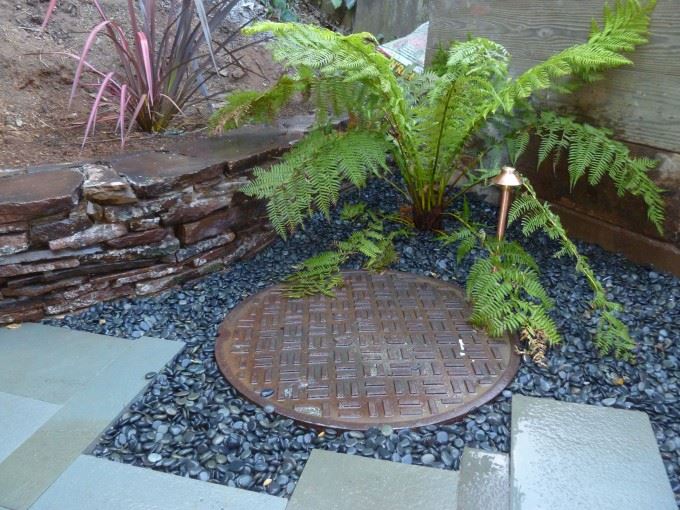 Living in San Francisco allows you to enjoy the gently sloping hillsides and amazing views. But it's also important to embrace the beauty of nature without interfering with it. That's why hillside landscaping can be an art—it takes skill and finesse to create stunning scenes that work with, rather than against, the natural surroundings. With careful planning and thoughtful design, you can create a hillside garden that allows you to soak in the beauty of nature without compromising it.
What is Hillside Landscaping?
Hillside landscapes offer unique opportunities and challenges for gardeners. Hillside gardens require careful consideration of factors like soil erosion, drainage, and the impact of gravity on the landscape design. However, the right techniques and expertise will transform your hillside property into a stunning outdoor space that brings out the best of nature's beauty.
Let's take a closer look at some of the challenges and solutions that come with hillside landscaping.
Challenges and Solutions for Hillside Landscape Design
There are several challenges inherent in hillside landscaping. But when it's done right, the results are well worth the time and effort.
One of the most significant challenges of building hillside gardens is combating soil erosion. Because hillside landscapes are naturally inclined, it's difficult for the soil to retain water and nutrients. This often results in the soil becoming loose and prone to erosion, especially during heavy rains, year after year.
Another challenge of hillside landscaping is drainage. Being the garden is on a slope, water tends to run downhill which can lead to soggy soil and flooding in lower areas. Excessive water is detrimental to plants and flowers because they need well-drained soil to grow and thrive.
With these challenges in mind, it's essential to use the right techniques and materials to create a beautiful, functional hillside garden.
Here are some expert tips to get you started:
1. Use retaining walls. Retaining walls are an effective way to prevent soil erosion and create flat areas for planting. They can be made from a variety of materials such as stone, wood, or concrete. Also, retaining walls can be customized to embrace the style and aesthetics of your garden.
2. Incorporate terracing. Terracing involves creating multiple flat levels on a slope. This is an effective way to create space for planting while reducing soil erosion and controlling water runoff.
3. Carefully consider plant selection. Choosing the right plants for your hillside garden is crucial. Select plants that are adapted for slope-specific conditions like soil type, sunlight exposure, and water availability. Native plants are an excellent option because they're well-adapted to San Francisco's unique climate and soil conditions.
4. Proper irrigation. Don't neglect proper irrigation in your hillside garden design. A well-designed irrigation system is essential for maintaining healthy plants in a hillside garden. Drip irrigation is often the best option for hillside gardens because it enables precise watering of plants while minimizing water runoff.
5. Install hardscaping. In addition to plants, hardscaping features like pathways, steps, and seating areas can add personality and style to a hillside garden. These features can be made from a variety of materials such as stone, wood, or concrete. Just like retaining walls, they can be designed to complement the garden's overall aesthetic.
Now that you understand more about the challenges of creating a functional hillside garden, here are some inspirational gardening ideas for your upcoming project.
5 Hillside Landscaping Ideas You'll Love
Transforming a hillside into a visually appealing and functional outdoor space can be a daunting task. However, with the right landscaping techniques, you can turn this challenging terrain into an extraordinary addition to your home's exterior. If seeking inspiration for your next project with a professional landscaper, these five creative hillside landscaping ideas will help maximize your hillside's potential.
1. Peekboo pathways: This is an ideal solution for a wooded hillside property that keeps as much of the natural foliage as possible. Your landscaper can thin the tree limbs to provide a peekaboo view down the slope and underpin them with foliage like Maidenhair ferns and Hostas.
2. Hillside vegetable garden: Bring nature's bounty from your private hillside garden to your table with this take on urban gardening. Bright red tomatoes, colorful peppers, or the robust green of healthy salad greens can help your garden shine as much as a bunch of San Francisco's beautiful dahlias.
3. Terraced Zen garden: Whether you want to tame a small intimate space for meditation or an expansive terrace that opens up to the cool air, a terraced garden is an elegant way to make use of a hillside landscape design.
4. Soothing garden walkway. Imagine strolling along pavers that gently follow the natural slope of the land. Your landscape design can include accents that follow the paths with lanterns, stone or wooden benches, clusters of exotic grasses, and border flowers.
5. Hillside rock garden. Turn a barren slope into a natural barrier that prevents runoff and soil erosion. Giant boulders and river rocks provide a natural anchor for your plants to take hold.
Beautiful, Affordable Hillside Landscaping Begins Here
Hillside landscaping presents unique challenges, but Tamate Landscaping is up to the task of transforming your outdoor spaces. We work with San Francisco homeowners like you to create functional, stylish hillside gardens that embrace the beauty of nature.
Get in touch with Paul Tamate to schedule a consultation about your landscape design ideas today.