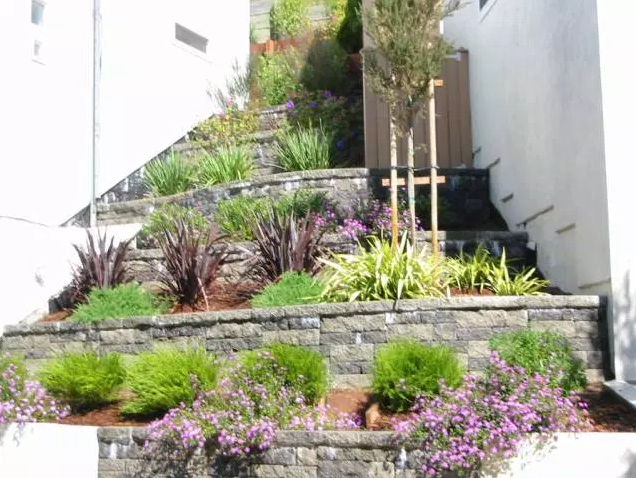 One of the challenges for landscape design in San Francisco is the sometimes hilly terrain and its unpredictable twists and turns. One popular solution is terraced landscaping. This innovative feature works with the natural terrain instead of fighting against it.
What is Terraced Landscape Design?
Although descriptions of terraced landscapes date back as early as the hanging gardens of Babylon, the practice in America as a landscape architecture design feature became common during the early 18th century.
Achieving the effect involves carving out flat areas into hillsides or sloping terrain where flat, cultivable land surfaces are scarce. The terraces can be as narrow as benches or as wide as is safe and feasible. Often, features like retaining walls are added to make the area more functional and visually appealing.
This is an ideal solution in cities like San Francisco. Our microclimate supports year-round outdoor enjoyment, and the stunning vistas afforded by terraced gardens add to the charm and distinct nature of the area.
Depending on your goals and space, we could create a small terraced niche, a single wide terrace with a patio or decking, or multiple cascading terraces staggered along a hillside. The choice is really only bound by your imagination, budget, and the physical limitations of the property itself.
Benefits of Terraced Landscaping in the Bay Area
The high hills and sloping terrain are hallmarks of the Bay area. However, the beauty that makes this area so unique also creates certain challenges for property owners and the landscapers tasked with taming it. Terraced landscaping offers a range of benefits for both the gardener and the environment.
Some of the key benefits include:
Maximizing space: By creating multiple levels in a garden, you can maximize the available space for planting and other outdoor activities. This is especially useful in urban areas where space is limited.
Soil erosion control: Terracing helps to control soil erosion by preventing rainwater from washing away the topsoil. The multiple levels of a terraced garden help to slow down the flow of water, allowing it to seep into the ground gradually.
Adding visual interest: Terraced gardens offer a range of visual interests and can be designed in various styles to complement the surrounding landscape.
The Art of Creating the Perfect Terraced Garden Design
Although the results are breathtaking, creating a terraced garden design involves several key steps. Here's how Tamate Landscaping works to create a terraced garden design.
1. Consultation. The first step in realizing your terraced garden design is an on-site consultation. Paul surveys the available space and works with you to come up with design innovations that take your goals, budget, and vision into consideration.
2. Leveling. Once we have a design settled, the next step is to level the slope. This involves cutting into the hillside to create flat areas for planting. Typically, this is achieved by using a combination of retaining walls, steps, and terracing. Complete cleanup involves safely removing any debris and leaving the surrounding terrain and ecosystem as untouched as possible.
3. Drainage. Drainage is a crucial consideration in terraced garden design. We'll need to ensure that each level has adequate drainage to prevent waterlogging without inhibiting natural water flow. This can be achieved by incorporating drainage systems, such as French drains, into the final design.
4. Plant selection. Selecting the right plants for your terraced garden is crucial. We need to consider factors such as soil type, sunlight exposure, and water availability. Ideal plant varieties for a terraced garden include perennials, groundcovers, shrubs, and small trees. Our landscaping company has access to a range of plant varieties that are ideally suited to the local climate and terrain.
Fortunately, our innovative ideas and full-service landscaping availability allow us to work with you and resolve those issues in a satisfactory manner.
Choose the Landscaper Who's Loved by Locals
At Tamate Landscaping, we specialize in creating stunning terraced garden landscapes that balance the beauty and functionality of your San Francisco property. Our team of experts has years of experience in designing and installing terraced gardens, and we use only the highest quality materials and techniques to ensure that your garden thrives for years to come.
When you're ready to explore the possibilities surrounding your home, reach out to Paul Tamate and schedule a consultation today. He'll work closely with you to help create the perfect terraced garden design for your property.