This residence in the outer sunset currently has crumbling concrete retaining walls/steps, terraces that slope and no foliage excepts for weeds.  Not a very inviting environment for a young couple with a new baby.  We were asked to provide a makeover, with a set strict budget and to include a deck, new steps, fix up the walls, turf and plants.  We were shown some photos of elements they liked and we took it from there.  Below are two photos of before.
We started with demo, relocating steps and reinforcing the existing walls.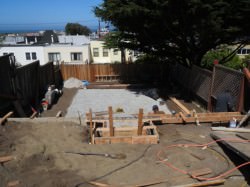 Below is a shot of a massive concrete bench that we formed and poured.  It serves as as a safety barrier between the two terraces, a platform in which to tie the deck that we will be installing and also seating.
Adding new concrete to existing concrete must be done with great care.  The natural tendency is for new concrete to pull away from old concrete due to poor bonding and expansion and contraction of concrete.  We minimize this by anchoring rebar to existing concrete with a epoxy resin as seen below.
We also coat all surfaces of existing  concrete  with a bonding agent called Weld Crete as seen below.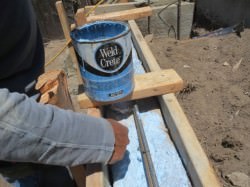 Job complete.  Three new level terraces, new steps, an organic vegetable garden box, TREX deck and artificial turf.  Also installed were auto irrigation, lighting and plants.