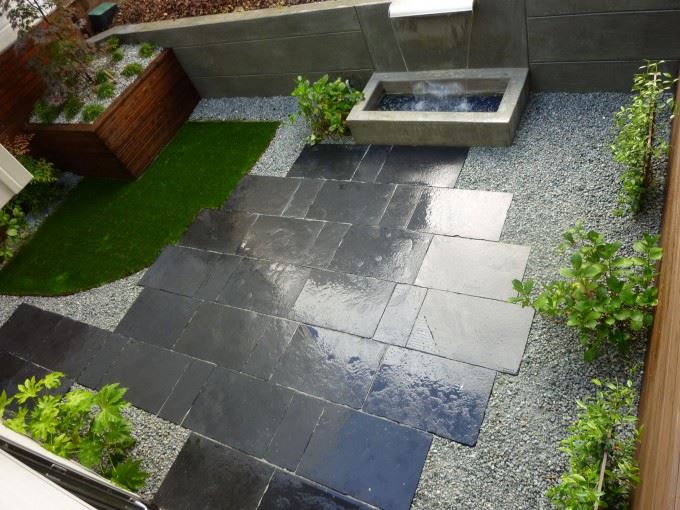 Nowadays, the types of outdoor patio material available provide a plethora of options to complement your style and beautify your outdoor living space. A patio can add that needed outdoor space for relaxing or entertaining. The correct selection of patio material will ensure that it properly matches your desired outdoor look and character of the landscape.
So, what types of outdoor patio material are popular in the San Francisco Bay Area? Here are a few options below:
Interlocking Pavers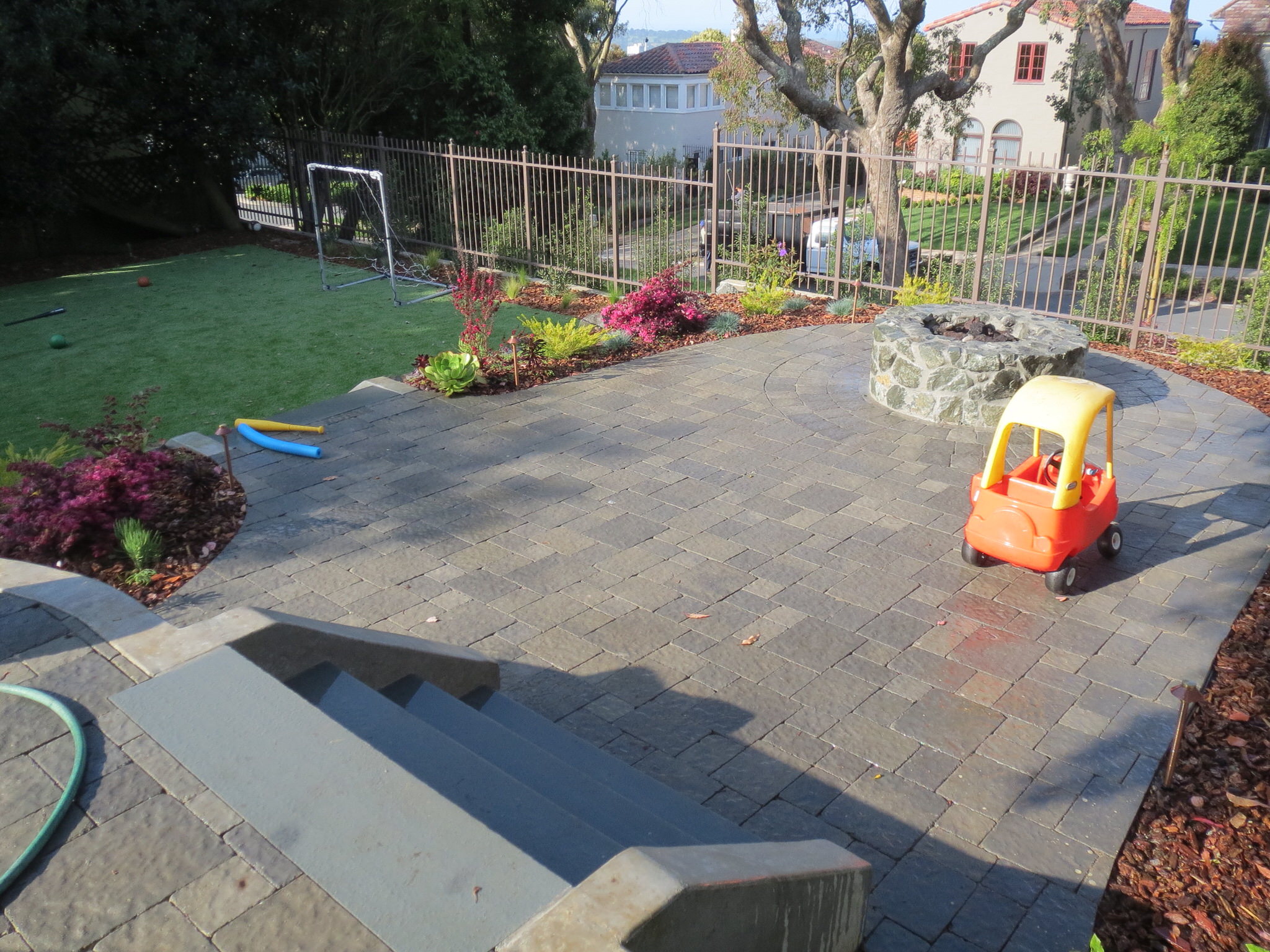 For a clean, contemporary look, outdoor patios made with interlocking pavers are the way to go.  Interlocking pavers come in various styles, colors, shapes, and textures. We have used McNear pavers in many of our landscape projects with great success.  
Interlocking pavers are slip-proof, easy to install, and require minimal maintenance. No mortar is used as each piece is perfectly cast to fit together nicely. Pavers are very strong, but if broken, can be easily replaced as well.
McNear pavers have stock colors ranging from Charcoal Gray to earth-toned Tierra.  The shapes of the pavers are available in various square or rectangular sizes.    
As each piece fits together like a puzzle, various patterns can be installed to achieve your desired look and feel of your patio.  Circular designs can also be installed, creating added interest and drama to your patio.
All of these great characteristics of interlocking pavers makes them a top material choice for an outdoor patio!
Irregular Flagstone
For a more free-formed, natural look, outdoor patios made out of flagstone may be a good option. Since flagstone is natural rock, each piece will vary in color, shape, and texture and may give your patio a more organic appearance.
There are numerous types of flagstones (not all-inclusive): quartzite, sandstone, bluestone, and limestone, to name a few. In the Bay Area, quartzite and Arizona flagstone (sandstone) are popular options. With an array of flagstone choices, your color palette is endless.
Irregular flagstones are generally either mortared together to form a patio or dry-set for a permeable surface. Dry setting flagstone is a great option for do-it-yourselfers (DIYs) since you place the flagstone pieces directly on the ground with no concrete needed. However, a compacted foundation should be done before laying the flagstone. This will increase the longevity of your patio.
Since we are dealing with natural stone, there is a degree of occasional maintenance needed, in order to keep the stone in tip-top condition. For example, since Arizona flagstone is porous, it must be sealed to prevent staining. Also, damaged flagstone set in mortar would require more effort to repair than changing out a broken interlocking paver.
Cut Natural Stone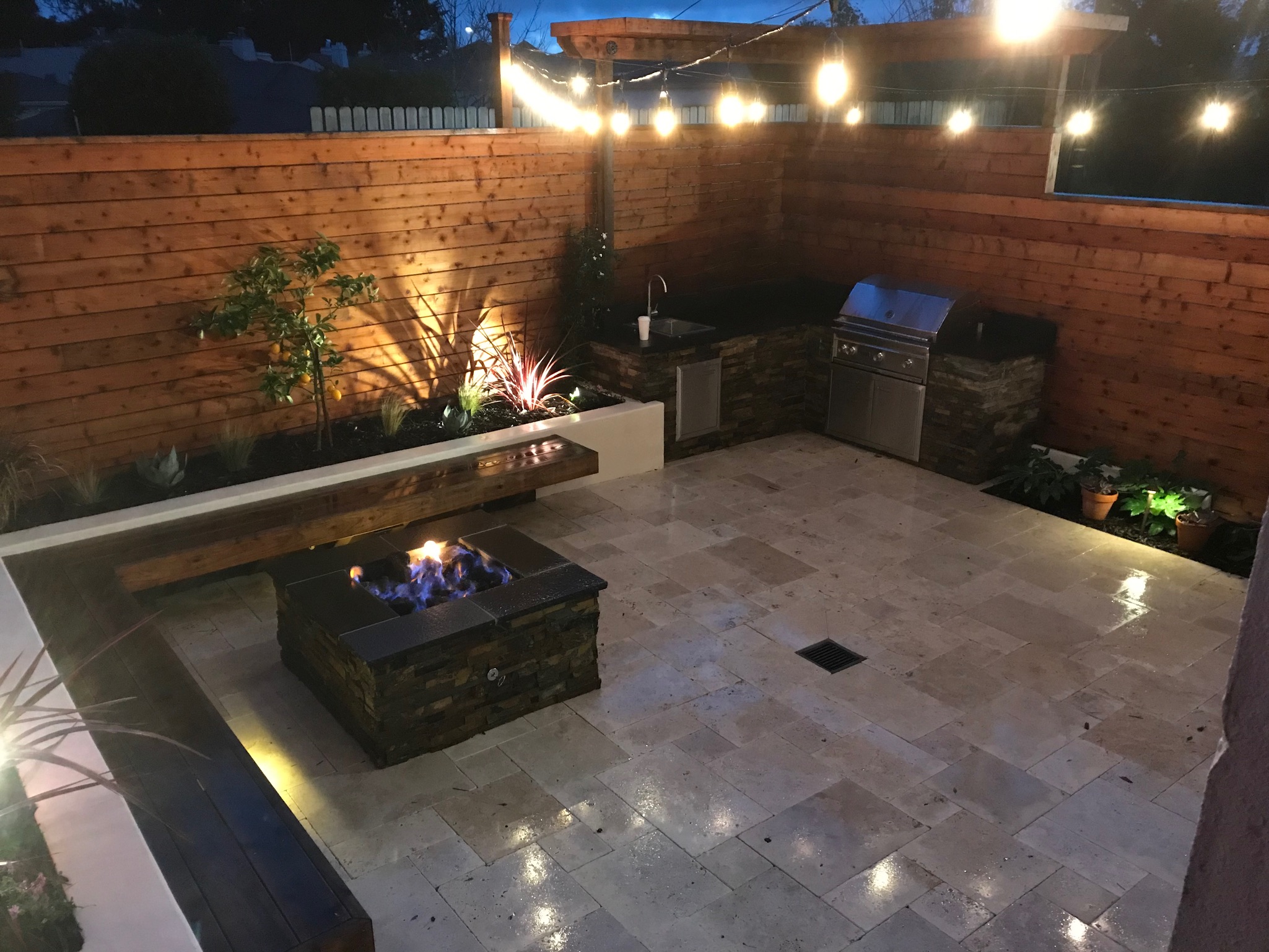 A patio constructed with cut natural stone, generates a modern, tranquil appearance to the outdoor area. The stones are normally cut into geometric shapes such as squares or rectangles. Since these pavers are made of natural stone, each piece is unique in color and texture.
There are many types of cut natural stone, including (not all-inclusive) granite, quartzite, bluestone, basalt, limestone, and travertine. So, depending on your style and taste, you have an array of stone choices to choose from.
Granite and quartzite are great patio materials. Both are very durable and come in a variety of colors and sizes. However, granite is porous, requiring it to be sealed to prevent staining and water damage. Colors of quartzite vary from piece to piece, so, if you are looking for a more clean, monochromatic patio, granite, basalt, limestone, or travertine may be better choices.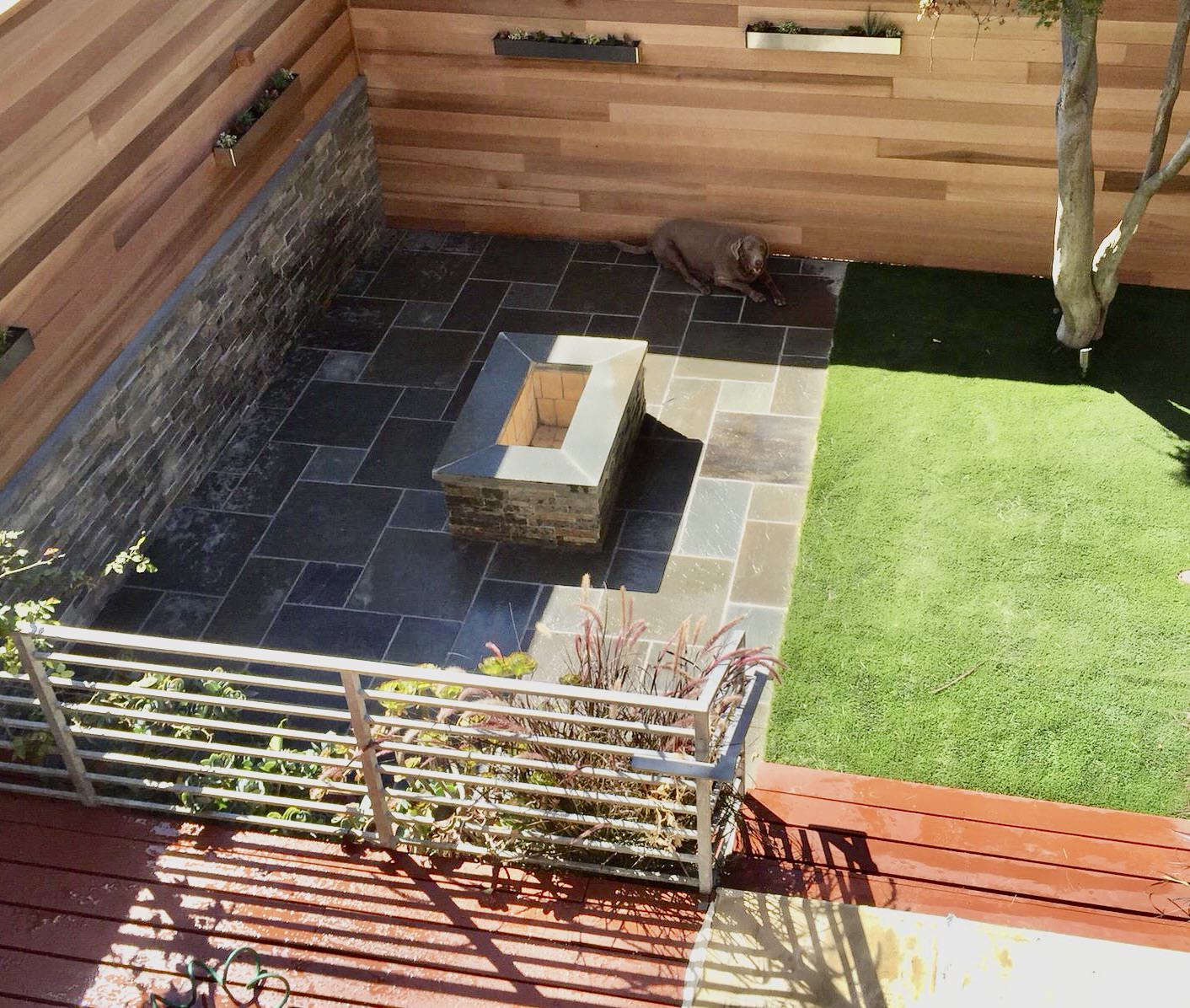 Similar to flagstone, cut natural stone pavers can be either set in mortar or dry-set. Also, as noted above, there is a some maintenance needed since you're dealing with natural stone. However, the high quality and organic look of natural stone cannot be beat!
Permeable Material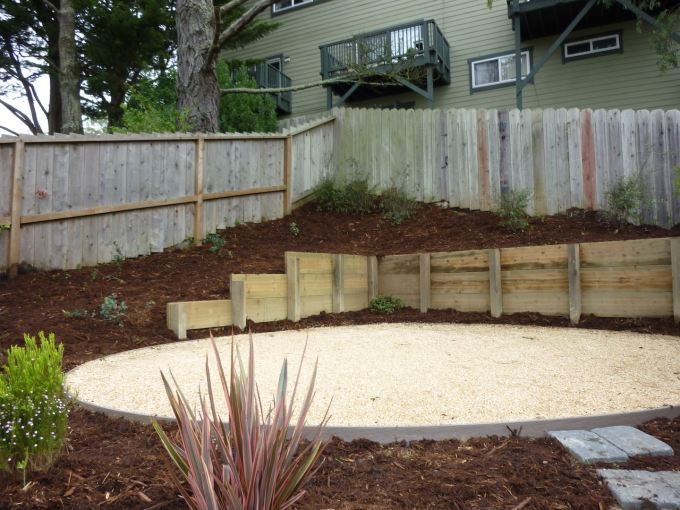 Looking for a low cost, quick and easy DIY patio installation? Consider using permeable material for your outdoor patio.
As the name suggests, permeable material allows rain water and snow melt to drain through and down into the ground below. This allows the patio to reduce runoff and help filter out pollutants that add to water pollution.
Permeable material that can be used for patios include (not all-inclusive): decomposed granite, crushed stone, bark, or pebbles. Generally, before laying the permeable material, the ground is graded and a layer of compacted base rock is added. Edging material is then installed to form the perimeter of your patio. Finally, the permeable material is added.
The end result is a natural-looking, environmentally friendly patio!
Personalized Patio Material
Giving your patio that special personalized touch may elevate it to the next level. Want a true work of art or focal point in your backyard? Consider adding something personal or unique to your patio.
For example, we had the opportunity to incorporate our customer's collection of manhole covers into a patio made of bluestone. The end result was simply magical! Here's a picture of it below. See our website portfolio for more.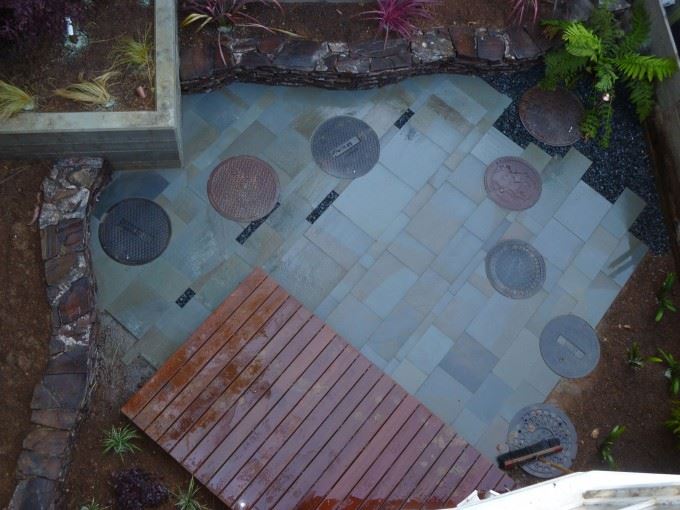 As another example, our client provide us pieces of mosaic-designed tile to construct their patio. The end result was a special, whimsical patio unlike any other.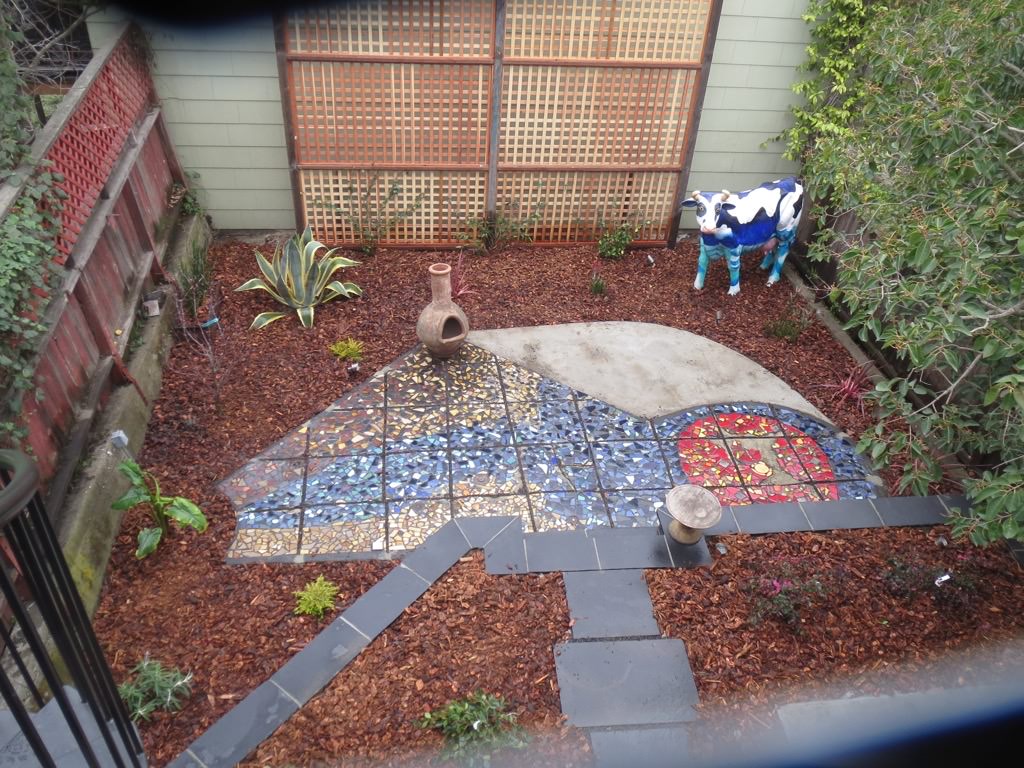 You too can have your own outdoor patio retreat that you can enjoy for years to come.  Please contact Tamate Landscaping or check out our website for outdoor patio ideas and other landscape designs.