Early October 2017 took the Tamate Landscaping team to the picturesque streetscapes of Glen Park, San Francisco. The house at 226 Fairmount Street needed a major backyard landscape overhaul. The original landscape of grass, bush and decorative plants left little room for relaxing outside.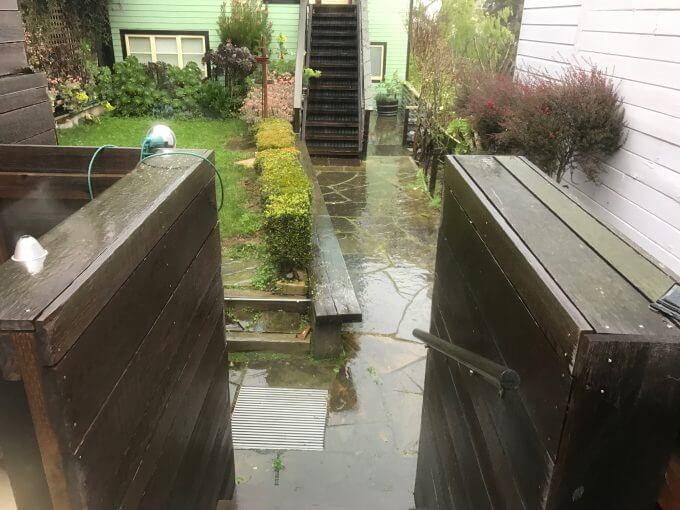 After talking with the client about the possibilities, we pinpointed the goal. We would completely open the yard up and create an additional outdoor living space that the client could utilize for relaxing and outdoor entertaining.
The Backyard Landscape Project Begins
There was no way we could use the existing grounds. We gutted the entire backyard, including the paved walkway and faded, worn out, white lattice on the side. The old lattice was covered with dying ivy, which we also removed. We removed planters in favor of a more natural, planted aesthetic, to give the whole area an open, relaxing atmosphere. It took a lot of work, and three weeks later, we have a beautiful backyard landscape, perfect for rest or entertaining, morning, noon and night.
Beautiful Backyard Landscape – Project Complete
We replaced the old pathway with interlocking pavers from McNear, in Slatestone Olevine. The dark color variation really makes the path stand out, in day or night. The pathway runs from the front gate entrance to the house/garden.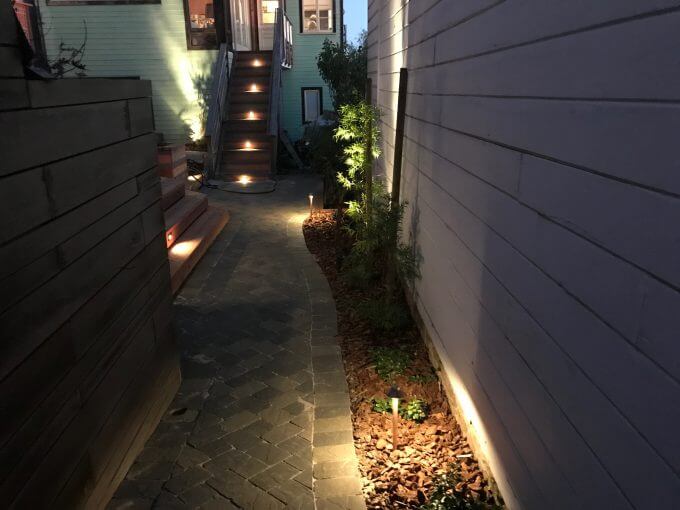 Two steps down from the parking area, we installed a new redwood deck, large enough for several guests. The deck includes large planter boxes for decorative plants as well as strategic lighting. Step lights and path lights and uprights give the area a soft glow.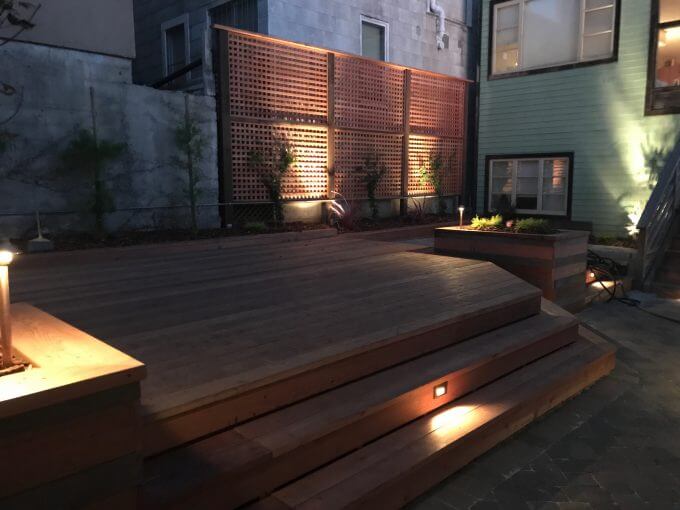 The planter boxes are made of new redwood combined with reclaimed cedar from the site. The two colors really helped pull the shifting gray of the pavers together with the red of the deck.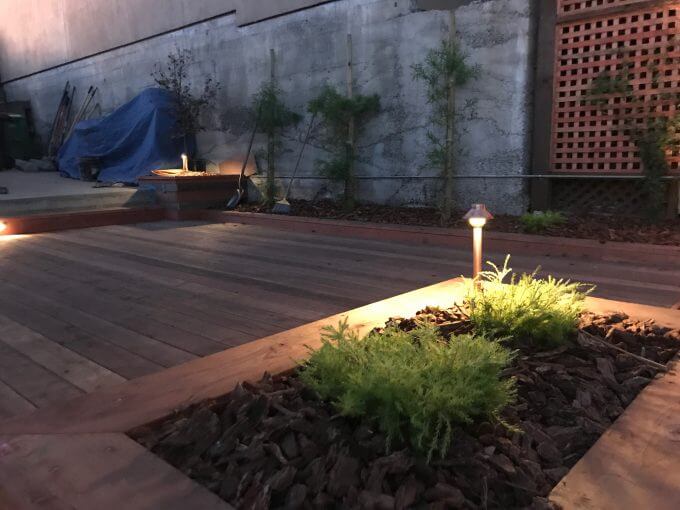 Fresh, clean redwood lattice replaced the old, faded lattice. Not only does it provide a brighter backdrop, but it also hides the neighbor's unsightly outer walls. Dying ivy and planters were removed in favor of decorative plants placed directly into the newly mulched plant bed. Back lighting provides additional illumination.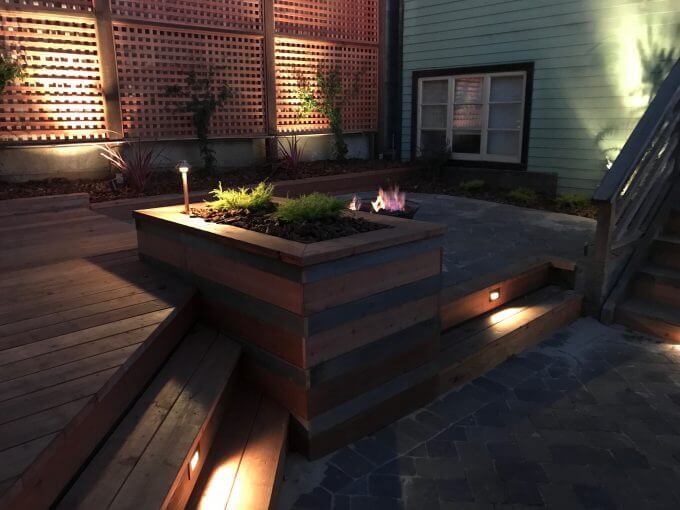 We also replaced the stairs to the house with redwood and reclaimed, onsite cedar. Inset step lighting softens the darkness of the stairs.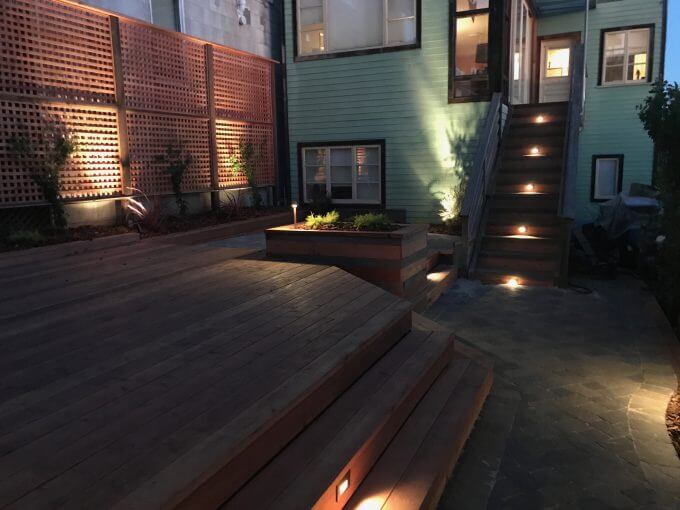 An additional interlocking paver patio holds a natural gas fire pit, as well as lighting on a 3-circuit remote switch. The fire pit is an iron dish provided by the client, which we customized to accept a natural gas fire ring. The pit is now permanently tied into the gas line, so it can be used at any time.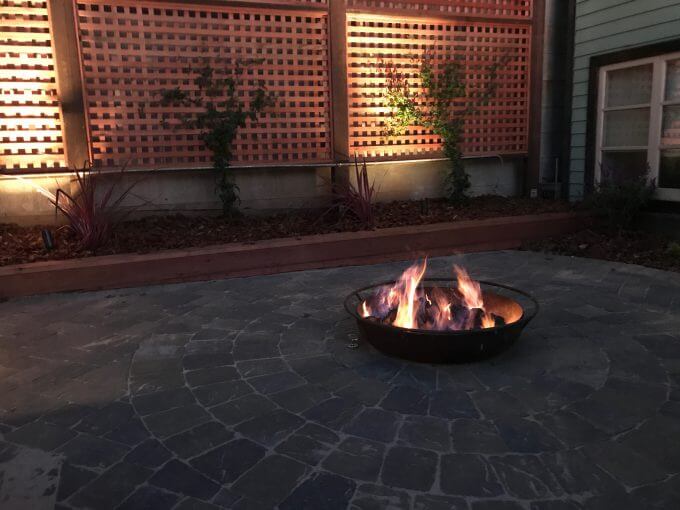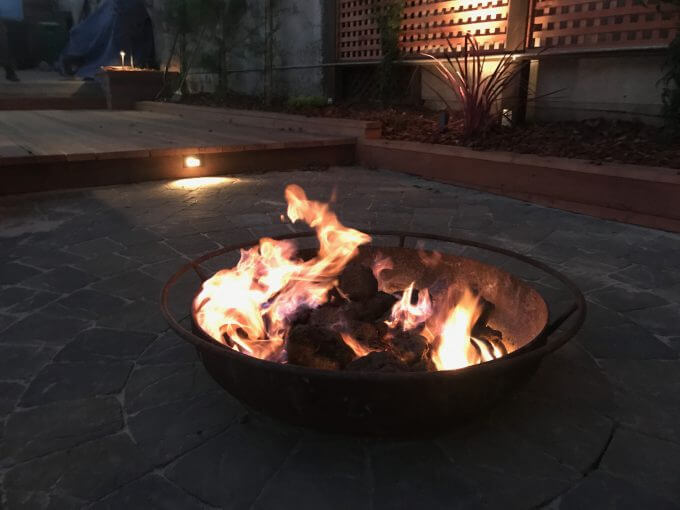 I think you'll agree, the final product is breathtaking!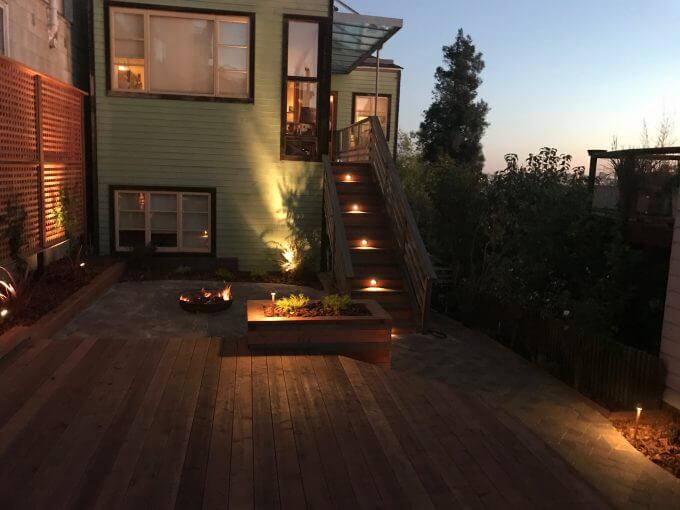 When you're ready to take your project to the next level, contact Tamate Landscaping and speak to one of our specialists about your next project.