San Francisco has its share of tiny terrain. Take Bernal Heights, for instance; you barely step out of your back door before you reach the end of the yard. Small yards don't have to put a stop to bountiful beauty, however. As San Francisco landscapers, Tamate Landscaping has had ample opportunity to transform constricting crevices into beautiful, small yard landscaping designs – a client's mini paradise.
Japanese Garden on Goldmine Drive, Noe Valley, San Francisco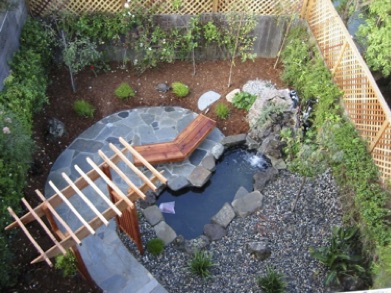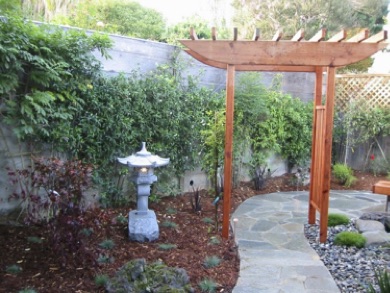 Goldmine Drive is a perfect example of a small yard landscaping design project that turned a tiny San Francisco yard into a peaceful, private paradise. This project started out as an overgrown patch, but now has all the makings of a quiet Japanese garden.
The owner wanted a koi pond and a dramatic, paved pathway. The tightly arched stone makes it seem like a longer stroll to the pond than the few feet you actually go. Walking under the small pergola, past the lit stone lantern, you come to the handmade wooden bench – the perfect place to set and meditate.
Lattice walls and greenery help give the impression that the Japanese garden and careful landscaping design continue beyond while still providing privacy, and the tiny waterfall helps cover the sounds of the hectic world around you. For the client, it's quiet getaway, right in their own back yard.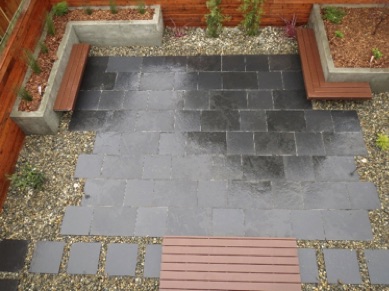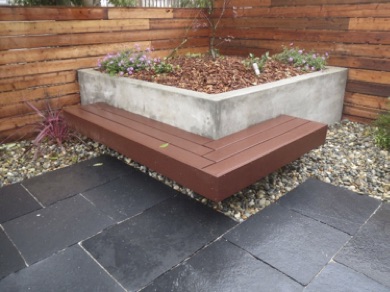 Contemporary Landscape on Merced Avenue
Another excellent example of small yard landscaping designs with a huge effect is the low maintenance contemporary landscape on Merced Avenue. In fact, "low maintenance" and "contemporary" were the client's key words.
Horizontal redwood fencing provides a warm, creative backdrop to the modern landscape design. Puffs of topiary soften the stark lines of the rest of the yard without detracting from the flow of geometric shapes – squares, rectangles and crisp borders abound. Eventually, the plants will grow to provide more cover while still maintaining the minimalist look and feel.
Benches, integrated into the concrete planters, take up little space. This provides ample room to sit and talk without taking over floor area with a full seating arrangement. This is the perfect back yard landscape to enjoy small get-togethers in. – And with auto lighting, the get-togethers can go as late as you want!
Dog-friendly Backyard Oasis on Martha Avenue, Sunnyside, San Francisco
A small yard isn't necessarily friendly for a dog, especially when a dog is really four dogs, and those dogs are two big Golden Retrievers and two small Dachshunds. For one house on Martha Avenue, however, "dog-friendly" is key. The client wanted a backyard oasis – a small landscaping design of beauty, serenity and utility -, and he wanted to make sure his dogs were safe, comfortable and happy.
He had a big wish list for such a small place:
Grass that discouraged digging
Waterfall that was safe
Gas fire pit
Bar-b-q grill
Queen Palms
Deck
Storage shed
We used grass pavers to discourage the dogs from tearing up the lawn while still providing green cover. As well, it makes an interesting conversation piece and adds texture to the setting. The waterfall in the back is just large enough to create the backyard oasis feeling without taking over the whole yard.
We utilized terraced layers to give the impression of space while still providing the client with what he wanted. We even managed to fit in a small storage shed, gracefully wrapped by a beautiful wooden deck.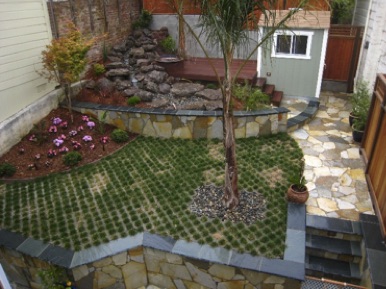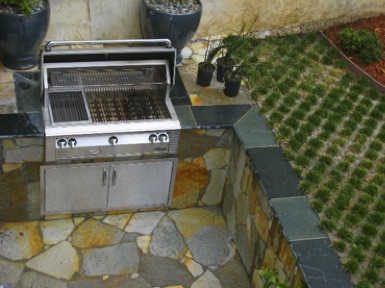 Small Yard Landscaping Design IS Possible
As you can see, just because you don't have as much square footage as you want doesn't mean you can't have big ideas. Call Tamate Landscaping to discuss how we can turn your tiny terrain into a beautiful small yard landscaping design.