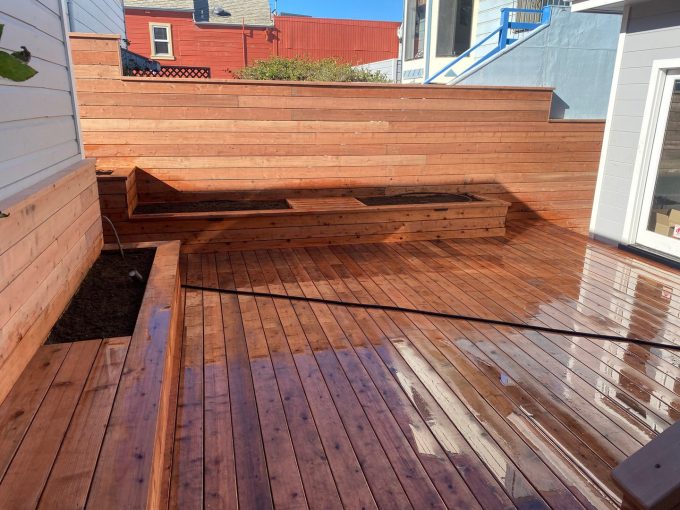 This backyard landscaping, restoration, and makeover project was located in the Bernal Heights neighborhood of San Francisco. The project entailed a lot of carpentry work including:
new fences
raised garden beds
steps
planters
fence layout
The fence work, deck, and step risers were all to be made out of redwood, including the planter facing.
As our client was very experienced in restoration, backyard makeovers, and the like, he developed his own plans. We used our client's plans as a guide to construct the makeover of his outdoor space. This saved our client a few thousand dollars from the get-go!
First, We Start with the Demo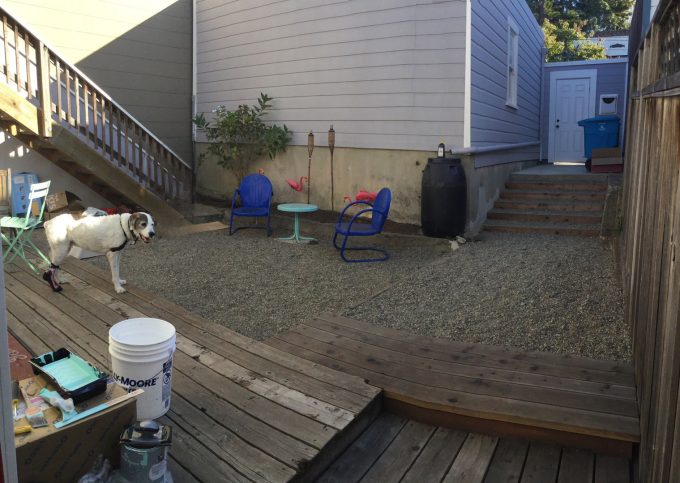 As always, we started with clearing the area. Unlike recent prior projects, we had backyard access and did not need to go through the house (or over!) to transport debris and materials.
We removed the older deck boards and fence. However, the structural components of the old deck were maintained and combined with our new deck construction. We removed the back stairs leading to the back door as well.
Easy access made our demo quick and easy. We were done in three hours!
Building of Raised Planters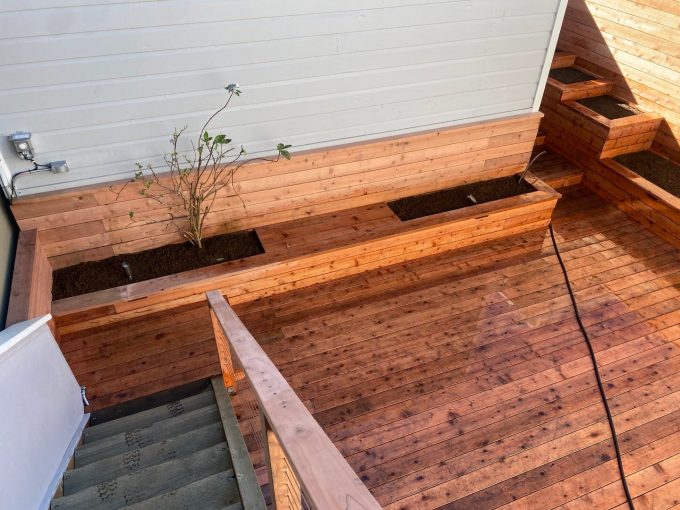 This project included building two raised planter areas. One planter was built at the back of the deck, while the other planter was positioned at the side of the deck.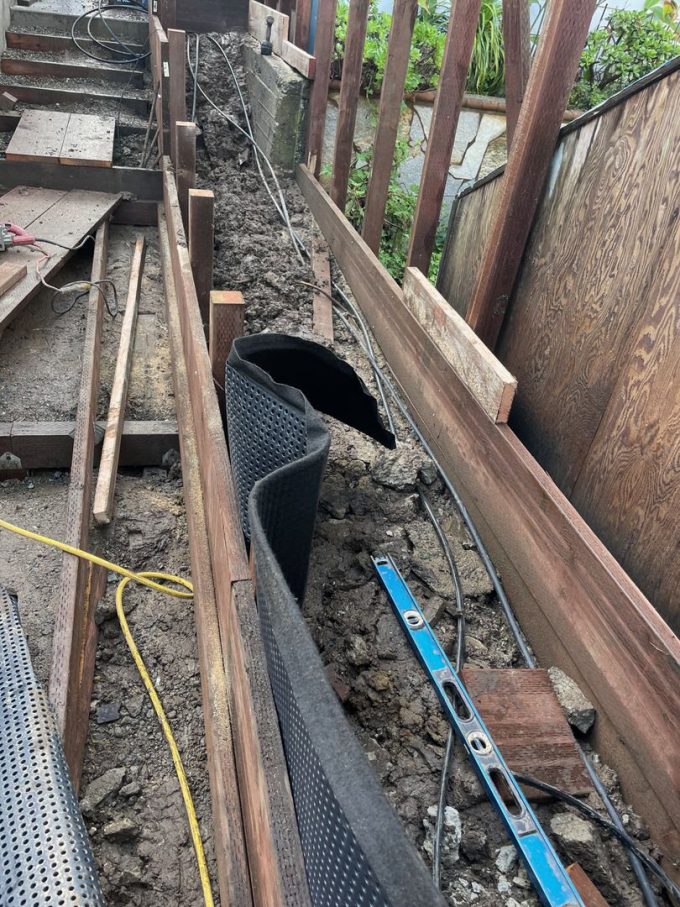 After we constructed the posts and concrete footings, the walls of the planters were built using pressure-treated lumber. We then veneered and capped the planters with redwood.
The client wanted to pick his own plants for his own outdoor living space, so the finished planters were only filled with nursery mix. Sorry, Duke (our dog and Tamate Landscaping bestie), no trips to Pacific Nurseries this time. Maybe next job!
Deck Build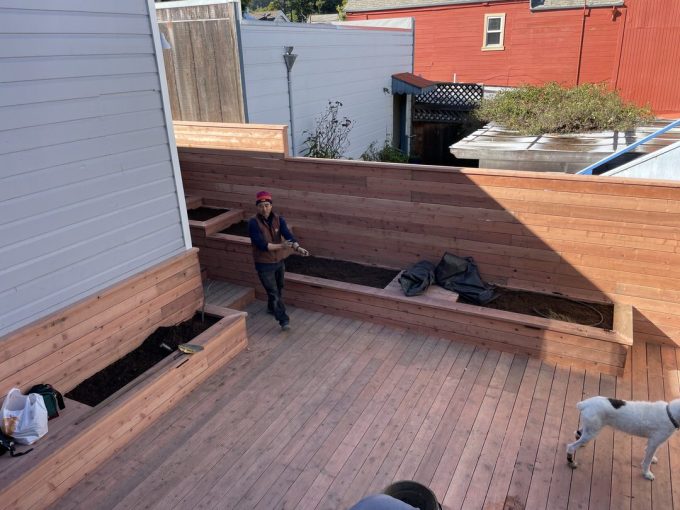 The primary component of this outdoor makeover was the redwood deck. We first installed the structural components. This included the beams and joists which were strengthened by metal joist hangers and hurricane ties. Without the metal joist hangers and hurricane ties, the deck's strength and lifespan would be greatly diminished.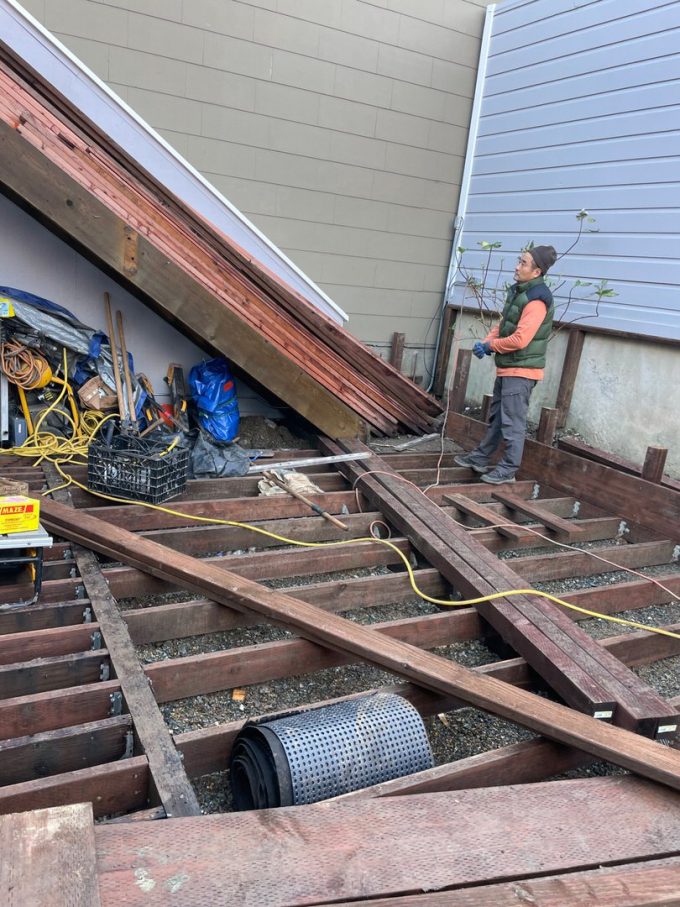 Once we installed the structural components, we placed redwood planks on top and secured them with hidden screws. We used our CAMO tool and edge deck screws for a fastener-free surface.
The CAMO tool allows the screws to be driven into the planks sideways, so screws are "invisible". While this technique is more labor intensive, the end result is really worth it. With no fasteners on the surface, the completed deck installation has a beautiful, smooth surface.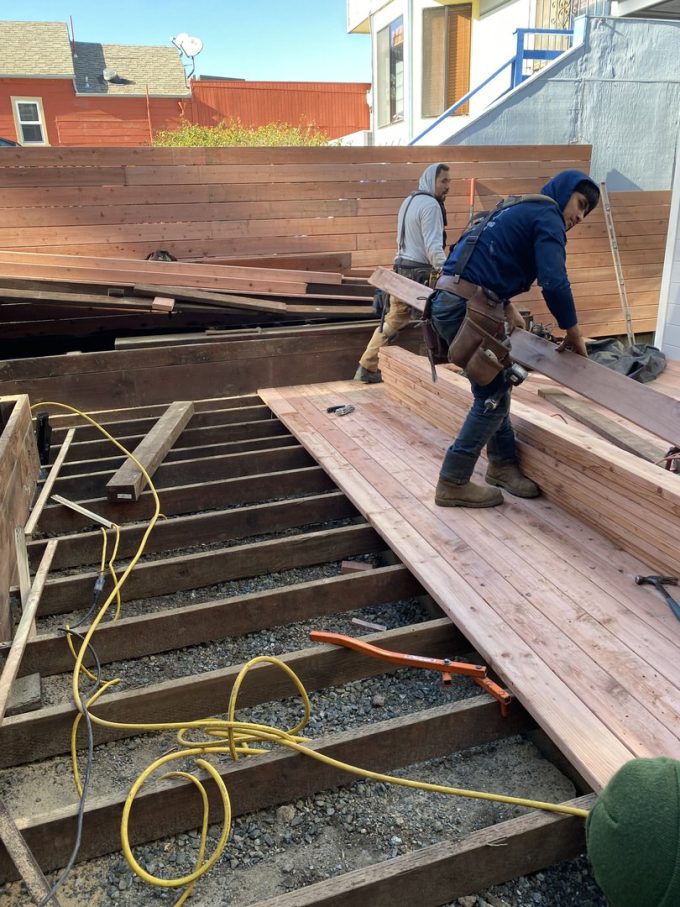 Fence Build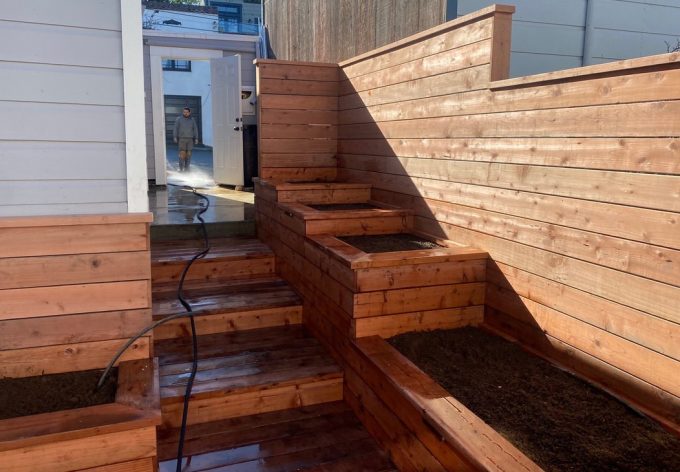 The framing of the fence was made of pressure-treated posts and was posted to existing metal brackets. Once the redwood was installed along the fence posts, we capped it with 2" x 6" redwood cap pieces. The cap pieces added a great finish to the new fence.
Step Build
We built new steps to provide access to the backside of the client's property. The steps and risers were made of redwood.
Lighting System
Finally, we added a simple outdoor lighting system to this revamped backyard landscaping project. The lighting added a warm, inviting glow to the area, in addition to nighttime safety.
We installed step lights in the stair risers. Also, we added rail lights to the planters and a couple of up lights were installed.
The finished product definitely transformed this outdoor space! Now, our clients have a great deck to enjoy and grow their choice of plants in custom-made planters. Maybe even grow some vegetables?
Conclusion
This outdoor makeover story proves that a homeowner with their own plans and experience in backyard restoration can transform the look of their property with a few savvy changes. With the help of Tamate Landscaping, our client was able to create an outdoor living space perfect for entertaining. Redwood is always a classic choice for projects like this, and its timeless beauty paired with our client's bespoke design made for sleek and timeless results.
At Tamate Landscaping, we understand that everyone has different ideas and methods when it comes to redesigning their outdoor spaces. That's why we take great care in listening to our client's wishes while providing informed guidance on what's possible.
Whether you need assistance in creating raised beds, retaining walls, or framing out walkways, we will work together with you to make your vision a reality. The end result: Your ideal outdoor living space is ready for whatever your heart desires! So let us join together in making your landscaping dreams come true—contact us today to get started! We have over 25 years of transforming overgrown or underutilized yards in San Francisco with many satisfied customers.