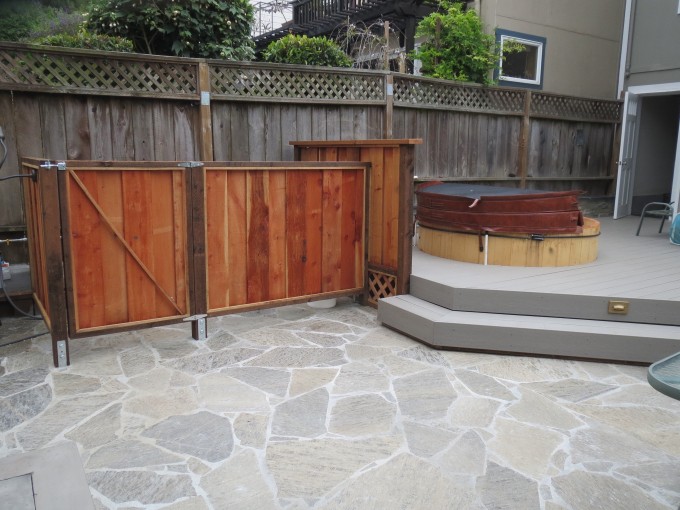 What's an ofuro? What's the difference between Japanese hot tubs, or soaking tubs, and American? Definition, differences and benefits of having an ofuro as part of your landscaping project.
If you've always thought a hot tub is just a hot tub, think again. Before adding a bubbly pool of water to the landscape design of your peaceful Japanese garden, take a few moments to read about the ofuro. The Japanese manner of relaxing at the end of the day is as beautiful as Japan's timeless tea ceremony, the Way of Tea.
What is an Ofuro?
The Japanese culture is full of expression; something as simple as arranging flowers are done with such precision and focused thought that it becomes a momentary living masterpiece. It's no wonder, then, that such a culture would develop a cherished tradition out of the everyday task of bathing. It's also no wonder that Americans look with a little wonder upon these out-of-time traditions.
The ofuro, a deep soaking tub made from Japanese Cypress (Hinoki wood), is just one of those traditions that brings a bit of the calm quietude of Japanese culture. Meant to relax the body, ease the mind and bring tranquility to the soul, this way of bathing – surrounded by your beautiful Asian landscape – will help you stay healthy inside and out.
How is an Ofuro Different from an American Hot Tub?
Rather than a bath tub such as Americans use to wash off in, the ofuro tub is meant for a much more enticing task – relaxation. In fact, since more than one person would normally use the water, it's customary to clean off before entering the Japanese soaking tub. Many Japanese bathrooms have separate areas to wash off before entering the ofuro. After all, you're going to soak, not just sluice off.
Not only does the use differ, but the way it's built is as well. American baths tend to be longer, with curved sides; we can stretch out and fight to be covered by all the water. A Japanese hot tub, however, is built to be shorter – you won't be able to lie down -, but it is often deep enough that you can sit comfortably covered up to your shoulders. The walls tend to be straight up and down, rather than curved, and many come with built-in benches, making your soaking time even more enjoyable.
The biggest way that these Japanese soaking tubs differ from American bath tubs, however, is the view. When possible, a window is put in next to the ofuro so the bather can look out and contemplate the beauty of nature.
The Benefits of Having an Ofuro in Your Private Garden
Although other materials are available, ofuros are traditionally built out of Japanese Cypress, or hinoki wood. This cherished wood is used for chopping boards by sushi chefs, to build Shinto temples and many other construction projects. It has excellent strength and resistance, doesn't mind humidity, doesn't rot, and is resistant to mold. Knowing that hinoki structures have lasted thousands of years should give you plenty of confidence in your ofuro!
As well, hinoki oil, loosed by the hot water in the tub, contains minerals and essential oils used for numerous therapeutic purposes. It's gentle on the body and gentle on the skin (has been used to treat skin irritations). Inhaled, the oil has been used as a decongestant, nervous system tonic and as stress-reducing aromatherapy.
Other Wood Options for Japanese Hot Tubs
While hinoki wood may be hard to get ahold of in San Francisco, other woods are available, and are excellent stand-ins. For example, Robert's Hot Tubs offers Alaskan yellow cedar, or even exotic teak wood.
Although these woods may not be the "traditional" wood for the Japanese hot tubs, they offer the same enjoyment – with the addition of each wood's unique pattern and color.
As you sit in your ofuro and gaze out over your peaceful, Asian garden, you'll slowly begin to understand why the Japanese are so interested in bathing that they made a daily tradition out of it. Thirty minutes to an hour later, you'll step out refreshed, relaxed and rejuvenated.
If you live in San Francisco and are thinking about adding a hot tub to your landscaping project, contact Tamate Landscaping. Highly skilled in Japanese garden design, we'll help you design and create your Asian paradise.