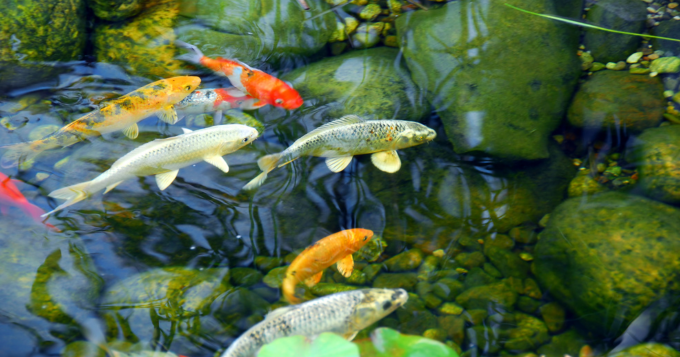 Infusing your Zen landscaping space with Japanese and Asian influences can enhance the tranquility and positive energy of your garden. The use of large rocks, a staple in Japanese gardens, can create a soothing atmosphere and add visual interest to your Zen garden design.
The San Francisco area is renowned for its blend of styles and diversity. Among the major influences are the far-Eastern flavors of traditional Japanese and Asian art and architecture.
You can put these influences to work in your space and escape the chaos of city life by transforming your outdoor areas into Zen spaces.
What are Japanese Zen Gardens?
Two of the driving principles of Zen landscape design are Feng Shui and wabi-sabi. You may have read about Feng Shui in relation to optimizing indoor spaces to achieve balance and harmony. The same basic idea applies to outdoor rooms as well.
Simply put, Feng Shui is the art of using representations of the natural elements of wood, fire, stone, metal, and water in conjunction with object placement to achieve balance. The makeup of a room or outdoor space, such as the compass direction of certain features and the colors that surround them, impacts the mood and flow of energy.
Another key component is the concept of wabi-sabi, which means using a minimalist design aesthetic that relies on natural formations and materials. It's what comes to mind when people imagine a traditional Japanese aesthetic, and the idea is to create a connection with the earth and nature in a way that's authentic and easy to maintain.
It is believed that these concepts, combined with other Asian styles, Japanese designers, and philosophical influences, can have a positive impact on your life and emotional well-being not only in Japanese culture, but it can also be seen in Japanese and Asian-themed gardens.
Zen and the Art of Gardening
Planning Your Zen Outdoor Space
The first step in any design is to assess your available space. Smaller gardens and terraces can be transformed by placing a central feature as a focus and augmenting the area with harmonious color schemes, plants, and items that are made of woods like bamboo or cherry. Even statuary next to a small fountain or placed on a pedestal next to a peace lily can create a peaceful niche to enjoy morning coffee.
The keys are to identify which elements mean the most to you, consider the purpose of the space, and choose a selection of items, flora, and colors that will bring your vision of peace and tranquility to life.
Creating Your Zen Landscaping Space
When one envisions a Zen outdoor room, things like water features or perhaps a rock garden come to mind. While these are certainly mainstays in the art of Zen gardening, anything that combines color with natural materials will work if they are placed in accordance with the principles of Feng Shui.
Determine which natural materials will feel most at home in your space. Items made from wood, stone, and bamboo infuse any space with wabi-sabi.
Balance the elements of wood and stone with some sort of water feature. The size and placement will depend on the available space. To conserve water without sacrificing the aesthetic, a Zen rock garden could revamp a small area.
Choose Furniture and Décor That Fit the Theme
Your plants and water or stone features can be augmented with Japanese and Asian design elements like Shoji screens, paper lanterns, or even a Koi pond. Arrange these items in a way that promotes tranquility and harmony, and be sure to add personal items and touches that truly make the space your own and create a Zen landscaping space of your own.
Maintaining your Japanese Zen Garden
Part of the charm of Zen landscaping is the Zen part. For some people, the maintenance itself is a form of meditation. Whether you design the space and plant every flower or ornamental grass yourself or hire a landscape architect, adhering to the principles of simplicity and minimalist design that incorporates natural formations in your outdoor space will be easier to build and maintain.
Overcoming Common Fears and Frustrations
Emphasis is placed on choosing the "right" objects and color schemes. The concept of peace and tranquility can become lost in the shuffle. While it's true that incorrect object placement can block energy or disrupt its flow, keeping the basic principles of minimalism, harmonious color mixing, and simplicity in mind is half the battle.
Infusing Color Into Your Zen Garden Design
As with any style of art, landscape architecture makes intelligent use of available resources of time, land, and materials and combines them with natural elements in a manner that promotes the positive flow of energy. Color is an essential component of Feng Shui, bringing interest into specific areas or creating an ideal overall mood through judicious placement.
For example, warm colors on the yellow-to-red range spectrum infuse energy, light, and warmth into an environment. Colors on the cooler side of the color wheel, such as blues, greens, and purple, promote peace and relaxation. Try getting a color wheel from an art or paint supply store, or look up color mixing online to gauge the possibilities and see which color combinations positively impact your mood.
Where colors and garden features are placed in your space will help determine the desired mood and atmosphere. For example, an outdoor room that's designed for meditation might have a water element surrounded by ornamental grasses and plantings in the pale purple family as a central element.
Zen gardens are meant to rejuvenate and energize. These include walking trails with pops of color in the red/orange range along the borders. Such a combination encouraged one client to get out and walk more, improving her health, mobility, and state of mind.
The good news is that you needn't be an expert in Zen gardening, Feng Shui, or the principles of wabi-sabi to create the perfect backyard retreat.
The Surest Path to Zen Gardening in San Francisco
Your Zen garden should provide a respite from the world where you can rejuvenate, relax, and recharge. By incorporating the concepts of favorable Feng Shui, you'll create an environment that's rich in color and imbued with serenity.
Infusing your Zen landscaping space with Japanese and Asian influences can enhance the tranquility and positive energy of your garden. The use of large rocks, a staple in Japanese gardens, can create a soothing atmosphere and add visual interest to your Zen garden design.
To elevate the aesthetics of your garden, and to inspire your rock garden ideas take inspiration from top Japanese fashion designers such as Junya Watanabe and Yohji Yamamoto, who are known for their high fashion and streetwear brands, or take a look at our many completed project through our portfolio section.
Conclusion
These designers often infuse traditional Japanese elements into their designs, such as intricate patterns, flowing and loose-fitting garments, and a muted color palette.
By incorporating these elements into your garden, you can create a harmonious blend of Asian influences for a truly unique and calming sanctuary.
However, the best way to obtain and maintain a tranquil Zen garden in your own backyard is to work with landscaping experts who combine an artistic eye, talent, and experience garden designers to cultivate the ideal atmosphere for peace and relaxation.