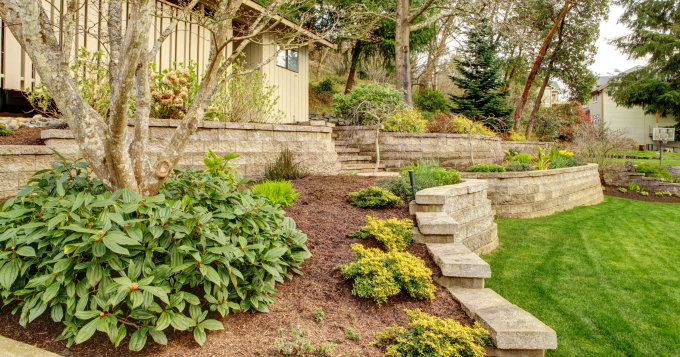 Do you want to transform your backyard into an oasis of beauty and tranquility? Hillside landscaping is the perfect way to create a relaxing space for enjoying the outdoors.
With careful planning and expert guidance, you can transform any hillside into a stunning garden paradise. In this blog post, we'll dive deep into how to make the most of your hilly terrain with one of San Francisco's leading landscapers on working in this unique geography.
At Tamate Landscaping we like to explore the possibilities that hillside landscaping has to offer; from creating secret gardens with winding hillsides pathways, to incorporating natural features like terracing and boulder retaining walls – we will discuss all aspects of designing an extraordinary landscape for your home.
Here is a partial list of the best hillside landscaping ideas to transform your property into a small paradise.
Retaining Walls
Retaining walls are an essential component in a hillside landscaping design. They serve two primary roles, namely;
Preventing and reducing soil erosion
Create flat areas for planting flowers, a rock garden, or a hillside garden.
The walls can be constructed using pressure-treated lumber, concrete masonry units (CMU) interlocking concrete blocks, and poured concrete. The secret to doing it right is ensuring that the construction materials are top-quality and complement the existing landscape and home architecture.
Terracing
Terracing is a widely used landscaping technique to convert hillsides into useful spaces for planting flowers and vegetables. The terraces allow the planting of ferns, grasses that will help prevent soil erosion, and enhance the rock garden design by adding lights for optimal effect. The process entails building a series of retaining walls or steps that follow the hillside's contours.
Planting different erosion control plants on each terrace is a good idea to maximize available space. This hack also creates a layering effect that adds interest and depth to the landscape.
Water Features
Water features are great focal points as they add visual interest and a sense of tranquillity to the landscape. It doesn't have to be a mega fountain; a small waterfall or pond is enough to draw the eye away from the slope. The sounds of water flowing over large rocks is always a popular rock garden idea.
There are plenty of water features that can enhance your little oasis. It can be a stream, waterfall, or fountain. No matter the features you select, we discuss all your options including assessing the best design to reduce erosion.
Rock Gardens
A rock garden is low-maintenance option that adds significant texture and visual interest to your sloping backyard. They are an ideal choice for areas that are difficult to maintain or mow. If we decide that's one of your better options then we will ensure the plants selected are well adapted to thrive in the rocky terrain.
Steps and Pathways
Steps and pathways on stone walls will make your hillside landscape more accessible and easier to navigate. Like the other amenities discussed, they will add charm and character to the outdoor space.
When designing a pathway, it is of paramount importance to consider the natural contours of the hillside, water erosion, wind erosion, especially in some of our San Francisco neighborhoods. As you know our micro climates have a lot to do with how we use our elements of design to work with your landscape.
Elevated Decks and Patios
One way to create a flat recreational space outdoors is by constructing an elevated deck or natural stone patio on a sloping yard basically building a retaining wall within the natural slope of the area. These patios involve a lot of work, but it's one of our specialties.
Like the steps and pathways, we consider the slope of your yard, and use sturdy supports and reinforcement materials that can withstand harsh outdoor weather conditions.
Ornamental Grasses
Ornamental grasses effectively brighten up hillside landscapes, adding a unique elegance and texture that other elements, such as fire pits, cannot provide. One of the highlights of ornamental grasses is that they are inexpensive, low-maintenance, and can thrive in a wide array of soil types. The best is switchgrass, blue fescue, and fountain grass.
Trees and Shrubs
Trees and shrubs will provide shade, enhance privacy, and create visual interest. When selecting them, make sure that you go for species well adapted to the soil and local weather conditions. Confirm from the designer whether the shrubs thrive on a steep slope or gently sloping area.
Wildflower Meadows
Wildflower meadows are beautiful and low-maintenance. The two attributes make them ideal for a sloping yard. Apart from providing a burst of color, the flowers attract pollinators such as butterflies and bees to your hillside garden. Wild indigo, goldenrod, and black-eyed Susan are some of the best options.
Outdoor Lighting
Outdoor lighting creates a dramatic effect on a hillside landscape. The lighting fixtures can serve as focal points and create silhouettes and shadows. The light will also make the outdoor space more inviting at night. The lighting options available include downlighting, pathway lighting, and uplighting.
Conclusion
There are countless hillside landscaping designs that you can use to revitalize your outdoor space and add to your curb appeal. Consider the longevity and type of retaining wall you are ultimately looking for, the time it will take to implement the design, and the maintenance cost.