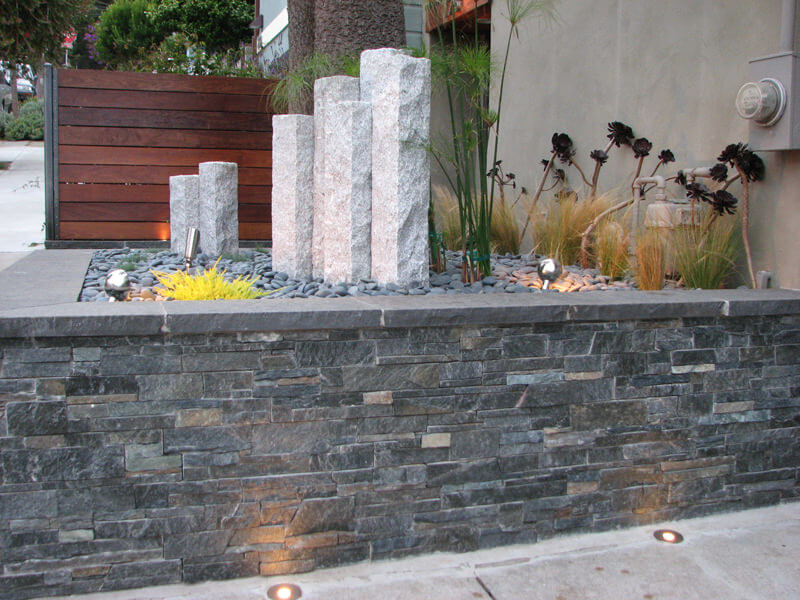 When you have pride in your home, every inch of your property is important. From the little dandelions that sometimes shoot up through your sidewalk to that street tree that the birds keep dropping presents from, you want your home and yard to be beautiful. However, the front of your yard is the focal point. The nicer it looks, the higher the curb appeal, which is why we're sure you'll enjoy these front yard patio design ideas.
Tamate is a landscaping company in San Francisco with a long history of designing front yard makeovers that are as easy to maintain as they are to look at. Our Asian-inspired influence will bring elegance and tranquility to any outdoor space.
Why Does Your Property Need a Front Yard Makeover?
Your home's front yard is your first chance to make an impression on visitors. It's a reflection of your unique style and personality. Make sure you don't let a dull, unwelcoming space do the talking for you.
Transforming the front of your house isn't just about appearance, but fostering peace of mind. Incorporating raised beds, ground cover plants, outdoor lighting fixtures, or any garden bed element creates an emotional connection for visitors and residents alike.
Above all, a front yard patio with planting beds gives you a place to enjoy a picturesque, inviting atmosphere.
Landscaping Challenges in San Francisco
San Francisco is known for its breathtaking views, moderate climate, and unusual living spaces. But, despite the beauty of the Bay area, the terrain and geological features pose certain challenges that take vision, skill, and experience to overcome.
For example, the hills that make San Francisco so unique also make it difficult to create level, usable spaces. The climate is also erratic. It can be sunny one day and cold, rainy, or foggy the next.
No matter the challenge, Tamate Landscaping has solutions.
Working With Your Property's Natural Features
The key to a stunning landscape is to work with the natural features of the land and create a seamless transition from one feature to the next.
Many properties are built into hillsides that require innovative landscape design features to transform them into inviting, livable spaces. For instance, an uneven or slanted front area can be leveled through the clever placement of a retaining wall. Soil erosion can be managed through the strategic planting of features like ornamental trees, shrubbery, and hardscaping.
Other important considerations for patio design in San Francisco include:
Patio Layout
The layout will largely depend on the size and shape of your yard. Popular options include a circular or rectangular patio with a central table and chairs. For steep inclines or ultra-hilly terrain, consider a raised deck with built-in seating. Another option is a multi-level patio bordered by retaining walls that take advantage of the different levels of a hillside.
Patio Materials
Materials set the foundation for the overall aesthetic of your outdoor spaces. Some popular options include natural stone, pavers, stamped concrete, or sustainable wood such as bamboo or teak.
Colors
Color selection for flower beds is just as important as choosing where to plant your trees and other features for your landscape design. For a calm, sophisticated atmosphere, consider earthy or neutral tones. Bold, vibrant colored flowers can add a playful, energetic vibe.
Drought-Tolerant Plantings
With dry summers and a seemingly perpetual drought, choosing the right foliage is essential for long-term, hassle-free beauty. Plants like succulents, lavender, and Echinacea are all great options for their vibrant color and easy care.
However, the most important consideration is your vision. Are you looking for a cozy spot for morning coffee, an outdoor room that's designed for entertaining around a fire pit, or a haven of peace and tranquility?
Rest assured that whatever you imagine, we can make your landscaping dreams a reality.
San Francisco Landscaping Ideas You Can Live With
Transforming your front yard, whether large or small, into a breathtaking landscape that harmonizes with the natural terrain of San Francisco can be a captivating endeavor. Drawing inspiration from Asian design principles, we present you with high-end patio design ideas for the front of your property that blend seamlessly with the hilly terrain to create maximum visual impact.
Create a Zen Garden Haven
Establish your property as a Zen-inspired front-facing oasis that embraces simplicity, tranquility, and balance. Envision a gravel pathway that meanders through lush greenery and leads to the central focal point: your beautiful patio, perhaps with a small water fountain or gas fire pit. Incorporating Japanese maples, bamboo, or flowering cherry trees can add height, vibrancy, and a sense of privacy. Strategically placed rocks and lanterns will enhance the feeling of serenity and create a harmonious atmosphere.
Transform With Terraced Tranquility
Take advantage of the natural slope of the hilly terrain to create terraced gardens, which are a hallmark of Asian landscape design. Stone retaining walls divide the space into multiple levels, each showcasing unique elements. On the upper level, imagine a peaceful seating area with comfortable outdoor furniture that's surrounded by flowering shrubs and ornamental grasses. Stepping stones can connect each terrace, leading to a cascading water feature that adds both visual appeal and soothing sounds.
Optimize With Ornamental Plantings
Selecting the right plants is essential in Asian-inspired landscaping. Opt for carefully curated plants with elegant foliage and captivating textures. Incorporate a variety of evergreen shrubs, such as Japanese boxwoods, azaleas, and camellias, to provide year-round visual interest.
Ornamental grasses like Japanese forest grass add graceful movement and delicate charm to your landscape. Accentuate plantings with decorative rock formations like moss-covered boulders or pebble beds to establish a naturalistic, harmonious environment.
Pathways and Stone Accents
Introduce stone pathways throughout your front yard to enhance the connection between different elements. Irregularly shaped stepping stones or natural stone pavers can create a winding path that harmonizes with the hilly terrain.
Accent walking paths with meticulously pruned hedges or decorative grasses to delineate the space and add structure. Lanterns, pagodas, or miniature Torii gates create eye-catching focal points that pay homage to traditional Asian architecture.
Ready to Transform Your Landscape?
Whether you're ready to put your San Francisco home on the market or you simply want to turn it into an oasis of peace and beauty, Tamate Landscaping has solutions that will bring your vision to life.
For more than 25 years, we've served the Bay area with pride, and we can't wait to show you what we can do for you. Reach out to book a consultation with our landscape artist today.