Hills, hills, hills! They are everywhere and are one element that sets San Francisco apart from other cities. According to an article in the sfgazetter.com, "San Francisco has no less than 74 hills." Want a great leg workout?  Just walk San Francisco!
It's no denying that this topographic attribute adds beauty, dimension, and more landscaping possibilities. However, with hills comes erosion and in some cases, the risk of landslides. Solution? The retaining wall.
There are many different materials that can be used for retaining walls, but some of the most popular options in the Bay Area include concrete, stone, and pressure treated lumber. Each material has its own unique benefits and drawbacks, so it's important to choose the right one for your project. Concrete is one of the most durable and versatile options, but it can be expensive. Stone is a more natural-looking option, but it can be difficult to work with.
Like hills, retaining walls are everywhere in San Francisco. When deciding on a retaining wall, there are numerous material options depending on a variety of factors such as soil mass, hill slope, height, soil/rock composition, weather, cost, and style to name a few.
Here are Tamate Landscaping's four material picks for those in San Francisco, in light of the factors identified above:
Pressure-Treated Lumber
One of the most widely used materials in our four feet or less high retaining walls is pressure-treated lumber. Note: Walls over four feet high require a permit, including a drawing by a structural engineer, and are generally made of concrete.
The primary reason for selecting pressure-treated lumber over other materials is cost. It is much less costly to install as it is not as labor intensive to build compared to a concrete wall (see poured concrete below for more details).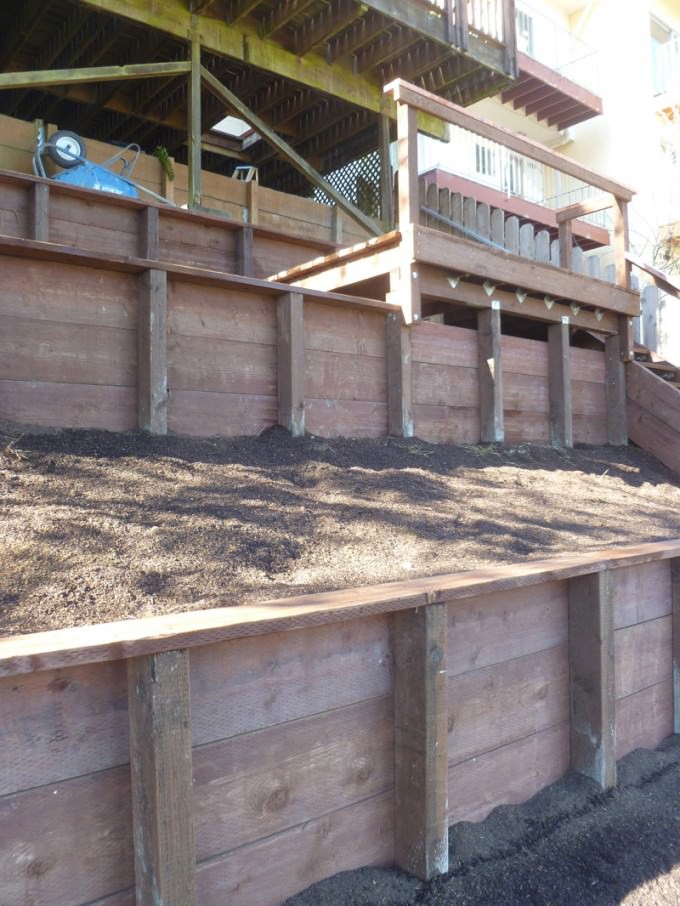 Retaining walls built with pressure-treated lumber are more rustic if not faced with another higher end wood. However, by adding a vertical steel beam to a pressure-treated lumber retaining wall, you can achieve a modern look, in addition to reinforcing the wall's strength.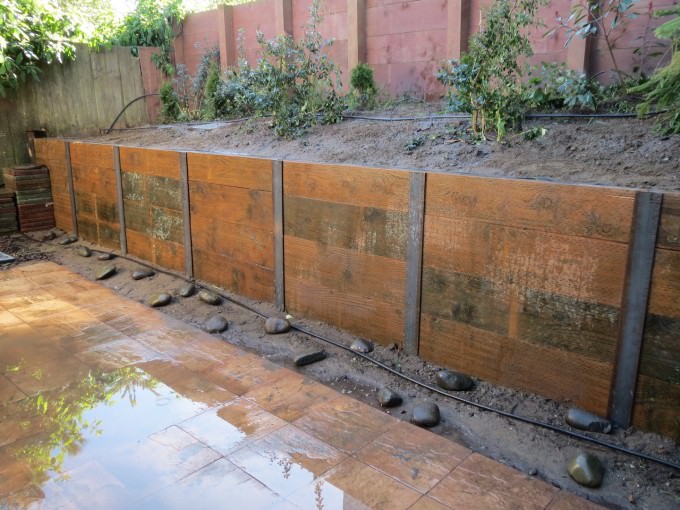 Concrete Masonry Units (CMU)
While walls made with pressure-treated lumber are strong and long-lasting, CMUs, with sufficient drainage, are stronger and generally last longer. As they require rebar-reinforced concrete footings and need to be filled with concrete, CMU retaining walls require more labor, and therefore, are more costly to build than walls made of pressure-treated lumber.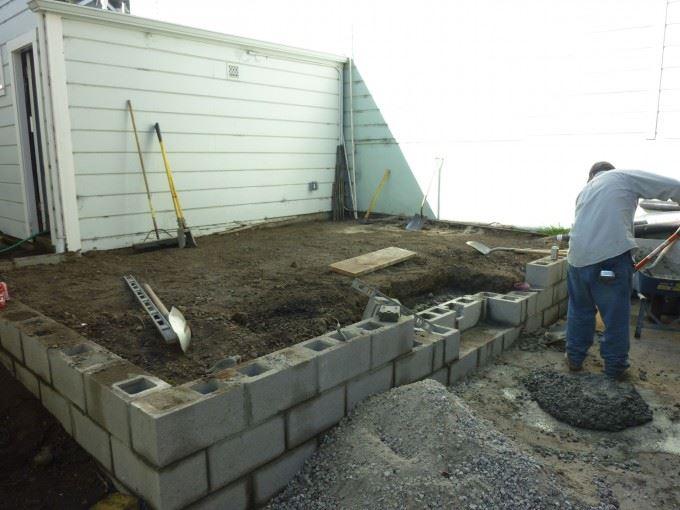 CMU retaining walls can easily be veneered with other rock, generating a modern look. Here's one from our project on 34th Avenue and another at Topaz Way.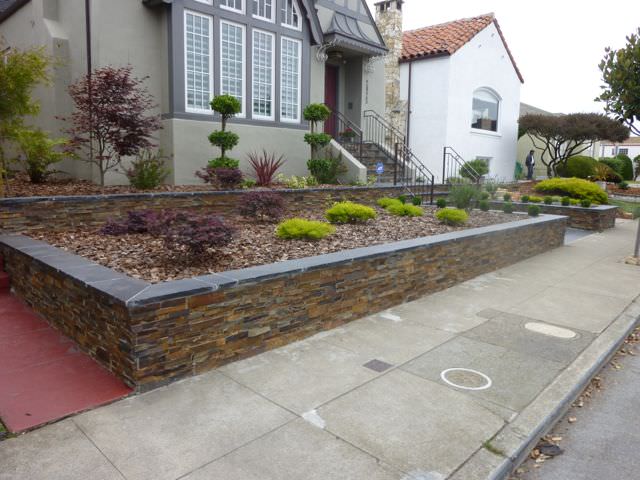 Interlocking Concrete Blocks
Possibly stronger than CMU retaining walls, interlocking concrete blocks such as Versa-Lok, are easy to install and come in a variety of styles, patterns, sizes, and colors. With these prefabricated concrete blocks, it is easy to create curves which are more difficult to do with lumber and CMUs.  Also, no mortar is needed to hold these blocks together since they are held together with a unique top pinning system. The final product provides for a clean, balanced.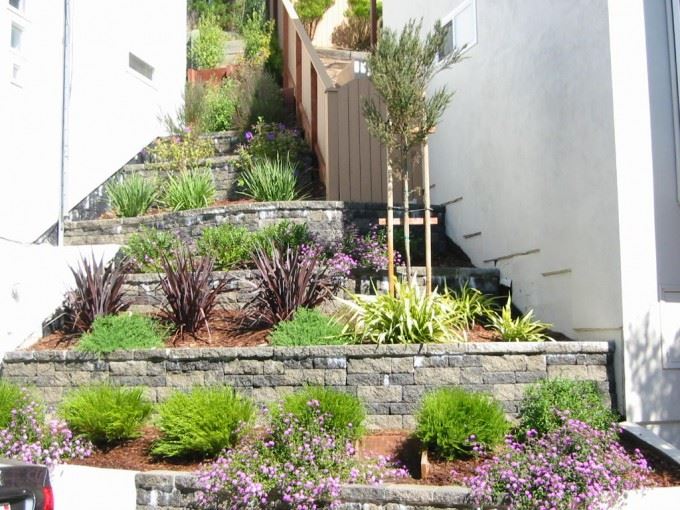 Poured Concrete
The gold standard of retaining walls is one that is made with poured concrete. Generally the required material by engineers for four feet or higher retaining walls (permit required), concrete is the strongest and most durable choice, with proper drainage added.
Concrete retaining walls, however, are much more labor intensive to build, and therefore, generally the most expensive. While it may look very straight forward, it takes a lot of preparation before the concrete is actually poured. Much of the work comes into play from erecting the concrete forms where the concrete is poured into.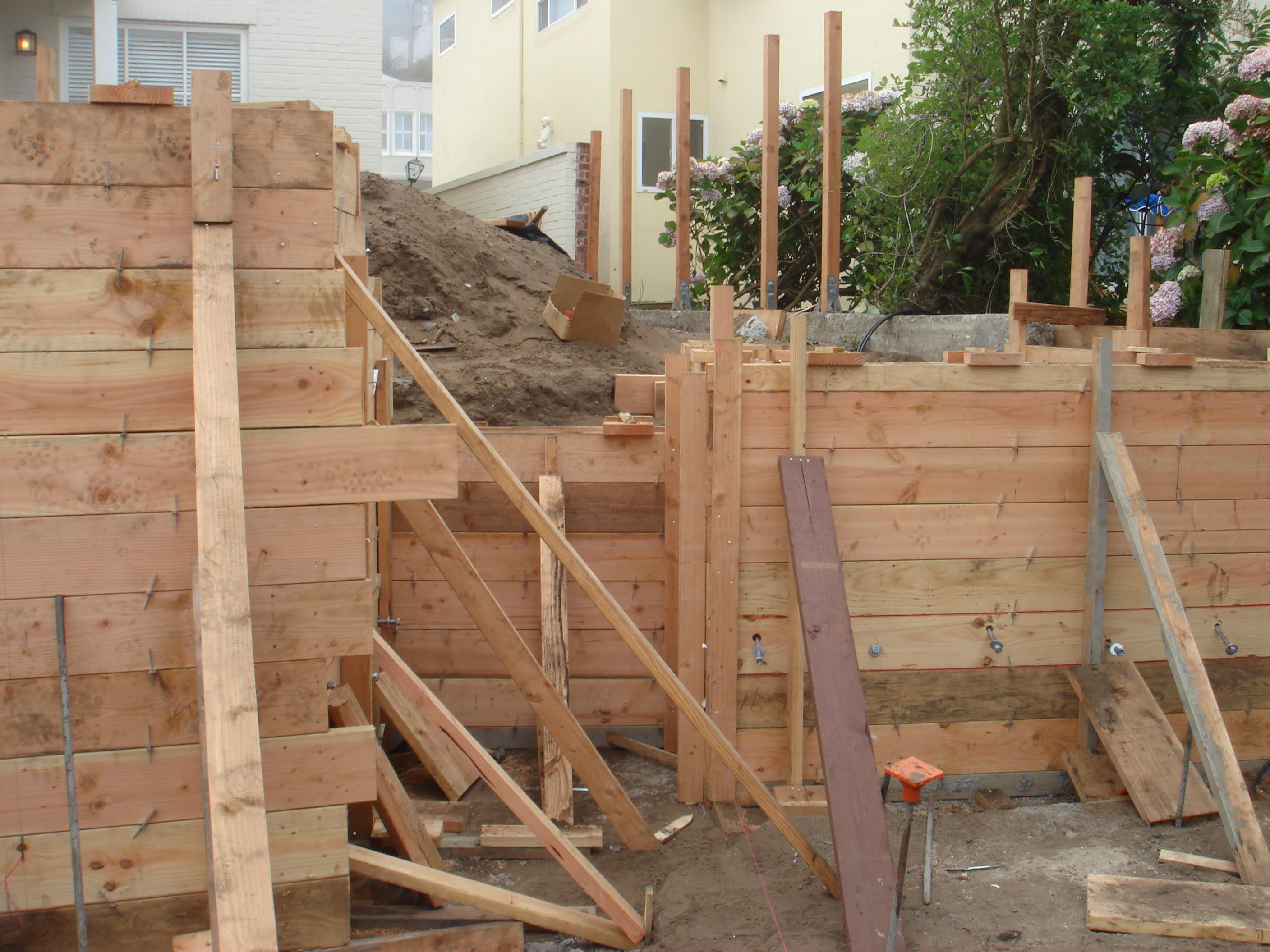 The concrete forms are normally made out of lumber and metal ties. Rebar reinforcement is then added, and finally, the concrete is ready to be poured!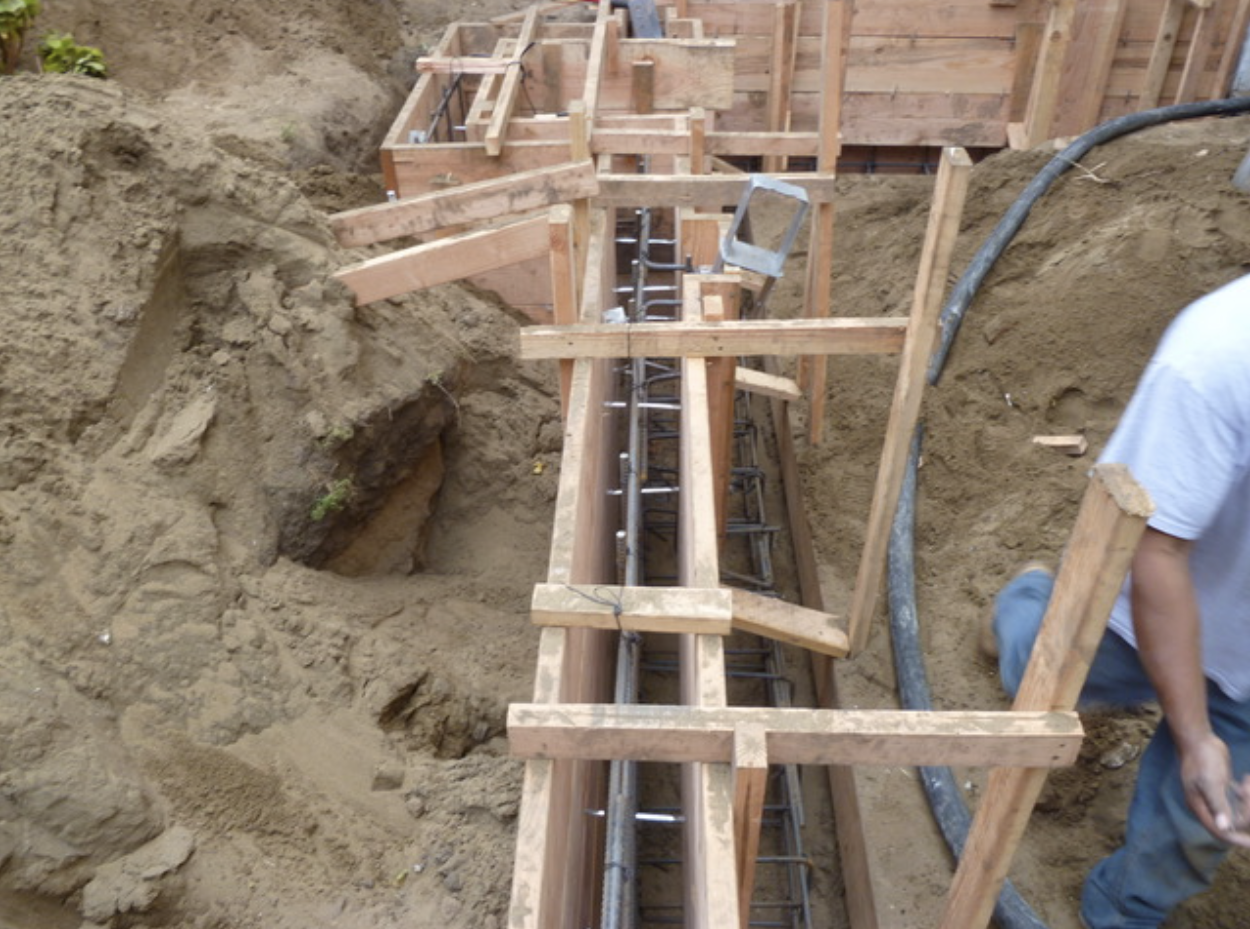 After around 24-48 hours, the concrete forms can be removed. It takes a minimum of 7 days for the concrete to cure 80 percent and approximately 30 days for 100 percent cure. Just remember, the slower the cure, the stronger the concrete!
In the end, the final product is a modern, sleek, work of art. Here are two finished concrete retaining wall projects: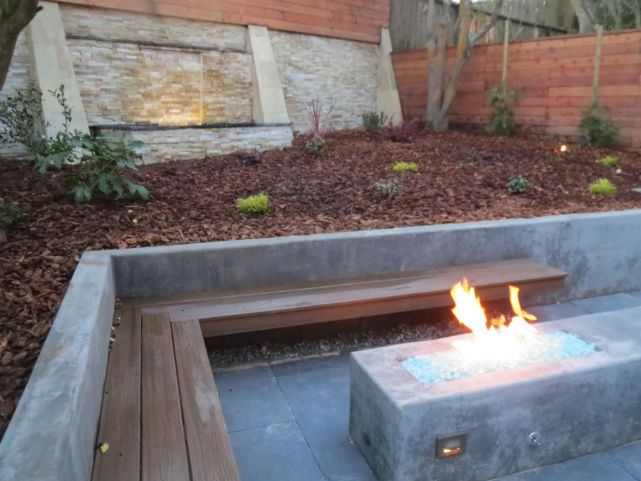 Tamate landscaping has extensive experience in designing and constructing retaining walls. We use only the highest quality materials, including concrete, iBeam, and interlocking blocks. Our team will work with you to create a retaining wall that meets your specific needs and enhances the look of your property.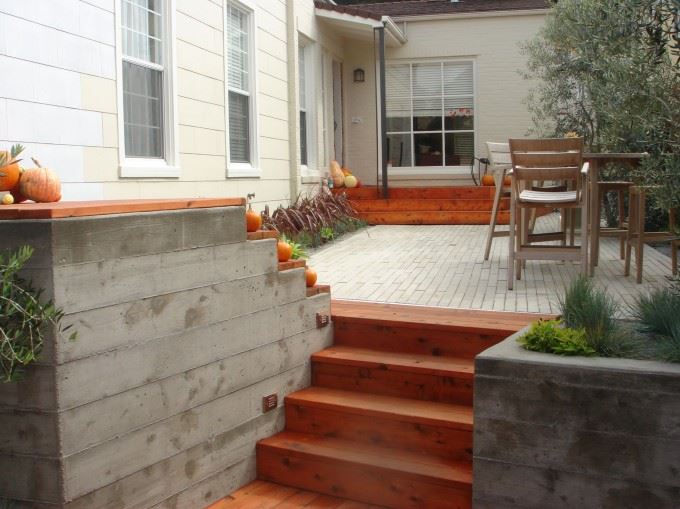 If your outdoor space is sliding like sand dunes in the desert or you're just wanting to add both function and beauty to your eroding hillside, then consider contacting us sooner rather than later. Ultimately, the best material for your retaining wall will depend on your budget, your design goals, and the specific characteristics of your landscape. At Tamate Landscaping, we can discuss the numerous options you have in building the right retaining wall for you.