Project Complete:  March 22, 2013.
What began as a 2 month project on November 1, 2012 ballooned into 4 1/2 months due to never-ending delays caused by the general contractor.  It was an effort of persistence from all parties involved to get it done.  The following is some shots of our labor of love.
Project Update: Day 26 December 8, 2012
Finally work on paving begins.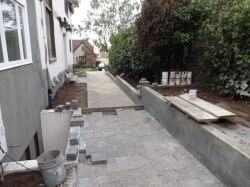 Proper prep work and compaction is key to a stable surface.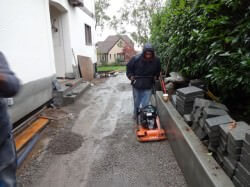 With all concrete walls erected, grading and paving can begin.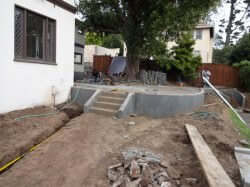 Concrete forms for hot tub installation
Project Update: Day 16 November 23, 2012
Since the last update, we've been working on the forms for the second and final pour, which includes more curved retaining walls, steps, landings, hot tub walls and the pads for the storage shed plus hot tub equipment. We are a bit behind schedule due to delays and the rain. Below is Rocky-he figured out that this tent area is the place to be to stay dry.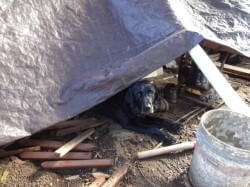 Future hot tub location.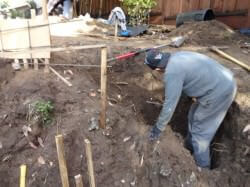 This form for the rear landing will accept a single piece of 700 pound Connecticut Bluestone.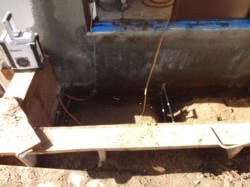 Project update: Day 11
First stage concrete complete. Planned 10 yards ballooned to 14 cubic yards. Below, a curved wall. Note the square tubes in the concrete that will accept future iron fence. Next, forms for second stage retaining wall plus paver installation.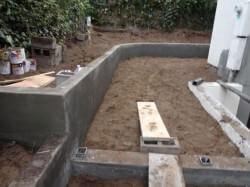 1500 sq. ft. soccer field being prepped for installation with drainage running the the center.
Project Update: November 9, 2012, the end of day 8
It seems the rain is here making the past week a bit challenging. But we did manage to construct the concrete forms for the left and front walls as seen below. Next week we'll be pumping our first 10 yard batch of concrete.
Project Update: Demo complete
After 40 cubic yards of concrete, greenery and other debris, the demo is complete and construction can begin. Everything was done by hand since heavy machinery cannot access the rear yard. Below is is photo of the crew lifting a 3/4 ton stump out of the ground using a portable crane.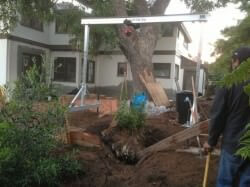 This project brings us to Saint Francis Woods, where a major remodeling project has been taking place for almost a year. It started with the house being lifted off its original foundation, a basement level room being excavated, new foundation constructed, the house being set back down on the new foundation and interior remodel. An incredible job by the general contractor.  What you see below is the aftermath of such a construction project. Its a few days before November and Tamate Landscaping is challenged with the task of lowering the grade, erecting retaining walls, installing drainage, patios, pathways, steps, plants, irrigation, lighting and otherwise making it possible for the owners to move in all while racing against a possible wet La Niña season.