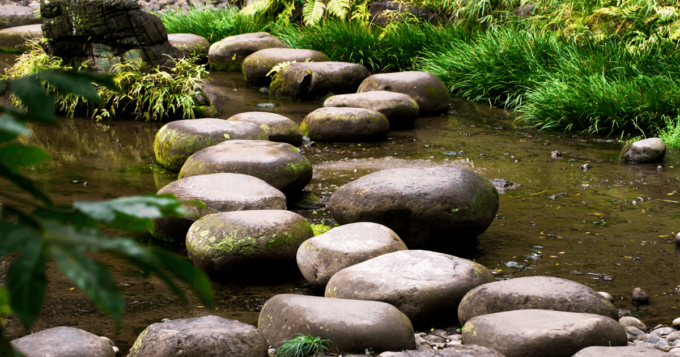 San Francisco homeowners are known for their creativity unique gardens, and passion for designing beautiful indoor and outdoor spaces. We love our beautiful spaces, don't we? Whether your yard is small, large, or just a little niche in a corner with potted plants, you can have beautiful, functional outdoor spaces.
A unique garden design can be created that is both aesthetically pleasing and functional. Go ahead draw the eyes with an amazing focal point, create an eating area surrounded by fragrant flowers, there's really no limit to the possibilities.
Garden Design Ideas for Your Outdoor Space
If you've been staring at your outdoor space, craving a little added beauty, consider these unique garden ideas:
Zen Retreat
Zen retreats offer a calming atmosphere of serenity within our own backyards – ideal for those seeking refuge from everyday stresses and anxieties through mindfulness gardening practices.
This type of garden typically features minimalistic designs with natural elements such as rocks and gravel pathways, sand, water features, and bonsai shrubs. The contrast between light and dark colors as well as different shapes and sizes adds visual depth while also creating a calming atmosphere in even the tightest of areas.
Cottage Garden
If you've dreamed of Scottish gardens full of color and life, the romantic charm of a cottage garden may be for you. Cottage gardens provide whimsical beauty with splashes of vibrant colors amongst lush vegetation such as climbing vines, lavender plants, or roses. You can easily add character to your outdoor oasis by utilizing repurposing vintage items into planters that give off an antique feel.
Outdoor Rooms
If you have a large space, outdoor rooms can provide plenty of opportunities for beauty. Create beautiful, functional gardens devoted to specific activities such as lounging or dining. These areas are separated by foliage wells or trellises acting as dividers, as well as winding paths and strategically placed seating areas.
This approach allows for flexibility in design which, in turn, makes every space distinct from each other yet still cohesive overall.
Tropical Gardens
Tropical gardens are a great way to add a vibrant, exotic touch to any outdoor design. From exuberant blooms that attract butterflies and hummingbirds to lush, leafy foliage that creates a tropical oasis, the possibilities with tropical gardens are endless! You can choose from an array of flowers and plants in various colors and shapes – including palms, bromeliads, and orchids. You can also use hardscaping options like water features, stone pathways, or wooden decks.
Mediterranean Gardens
Mediterranean gardens evoke a sense of lavish luxury and modern sophistication. These gardens are designed to utilize as much natural sunlight as possible and feature plants like lavender, olive trees, pines, and agave that are suitable for the region's climate. Themed patios featuring local stone and terracotta tiles create inviting outdoor seating areas which can be further enhanced with strategically placed water features or rustic furniture pieces for pleasing, peaceful comfort.
Feng Shui
Feng shui gardens marry the art of landscape design with spiritual principles from Eastern philosophy. When carefully planned out, these types of gardens help promote balance and harmony while also beautifying any outdoor space. Common elements such as flowing water, symmetric lines, wind chimes, or strategically placed stones bring focus to the ultimate goal of achieving a calm inner state – no matter where you find yourself.
Vertical Gardens
Vertical gardens are gaining popularity among urban dwellers who want to cultivate greenery but don't have much interior space. Sometimes you can fill them with various vines, shrubs, and flowers. There are even options that incorporate a vegetable garden into the mix.
Vertical gardening is a great way to add beauty to your outdoor area. It provides functional benefits such as increased insulation and reduced noise pollution from street traffic.
Wildlife-friendly Gardens
Wildlife-friendly gardens are perfect for nature enthusiasts who want to attract local fauna and flora to their outdoor space. These types of gardens often feature native plants which provide food, water, and shelter for birds, butterflies, and other small animals living in the region. The gardens will attract birds for the baths, ponds, as well as strategically placed piles of brushwood, which provide a natural habitat for wildlife.
Zero-waste Gardens
Zero-waste gardens are an environmentally friendly solution for reducing household waste while also creating beauty in your outdoor space. This type of garden uses composting methods such as Bokashi bins and vermicomposting to convert food scraps into nutrient-rich soil amendments. Horticulture techniques like companion planting and mulching allow plants to thrive without the need for synthetic fertilizers or pesticides – a great way to reduce your ecological footprint!
Courtyard Gardens
Courtyard gardens are ideal for small gardens where there's limited room to work with. They offer a variety of options for creating a special sanctuary in the middle of your home – think lush, flowering plants in containers, green walls, and cheerful pops of color from strategically placed garden art.
You can elevate your courtyard garden look by introducing hardscaping elements like gravel paths or brickwork that add visual depth and texture to the area. Alternatively, if you have enough space you can also set up wind chimes, a fountain, or even an outdoor kitchen to complete the perfect tranquil escape.
Conclusion
When it comes to designing a truly one-of-a-kind outdoor space, landscaping designers like Tamate Landscaping can help you bring your vision to life. We know the latest techniques and trends that will enhance any space, from hanging baskets and flower beds to fruit trees and drought-tolerant plants.
Whether you prefer a natural look or one filled with modern touches, there is always something unique about San Francisco's outdoor spaces and our unique gardens. With all of these garden design ideas in mind, we hope you find the inspiration you need to combine beauty and functionality in your own backyard.