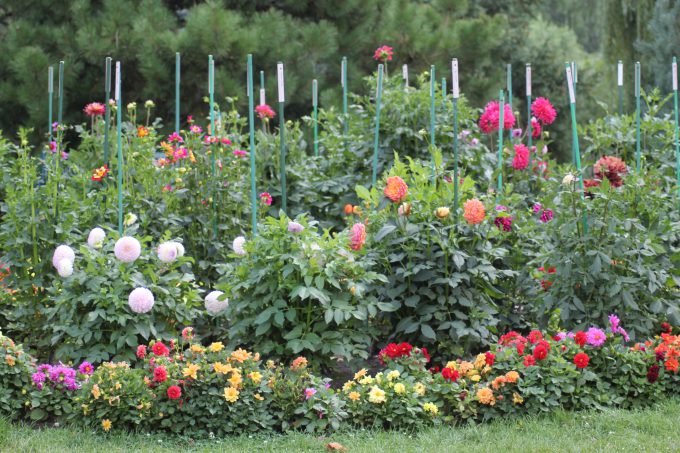 When you think "garden", a lot of people think of something that blooms all year round, and several years in a row. Many think of lovingly tending to this plant or that bush and watching it grow. In other words, perennials, of one sort or another. You may, in fact, be a plant snob, who wouldn't even think about planting one of those single year plants like those less knowing hayseeds that just plant any old thing.
Of course, in that garden you're picturing, you might also see bursts of bright colors and emerald green leaves. If so, you just might be picturing those poor second cousins to your beloved perennials.
5 Reasons to Buy Annual Flowers
Annuals have their own charm. Although they don't set up long-term roots like perennials do, their blooms tend to be brighter and longer lasting than perennials. And that's just one positive reason to go to your nearest nursery and purchase some. Here are a few more:
1. Annual flowers and plants are great stand-ins for beginning gardens.
If you're just starting out with your new landscape, you're probably going to have some bare spaces around those handsome new plants of yours. You may be staring at your sapling, trying to force a picture of a well-grown palm tree that currently has five feet of bare ground around it. Enter annuals, with their bright, cheerful flowers, just waiting to fill in that space. When they die, replace them with a new color or plant until your perennials are well established.
2. They can add year round color to your garden.
Annuals can fill in that empty blooming space between spring and fall, when the perennials are all sleeping. If you step outside and your colorful garden looks like a sea of green, you may need to step down from the perennial high-horse and find out what annuals are all about.
3. Perennials are often more expensive.
Sure, annuals don't stick around for ten years, but for the cost, the time they do stick around is well worth it. You can get a whole tray of gorgeous annuals for a few dollars. Try doing that with their higher costing cousins.
4. Annuals aren't as picky.
Perennials know they're important to a garden and are kind of snobby about where you place them. They turn their flowered noses up at flower borders and containers. Hanging baskets and sidewalk decorations are below them. Annuals don't care. They're happy to grow anywhere: baskets, sidewalks, borders, containers, rooftops, rain drains. If something can grow somewhere, it's probably an annual.
5. Annuals don't take as much care.
Perennials demand a lot of TLC. Separate the roots so they don't get too big. Prune the leaves for healthy, even growth. Water regularly. Annuals take far less work, as they don't get big enough for root separation or pruning. So go ahead and baby your perennials, but have some annuals around to enjoy while doing so!
Annual Flowers – Not Necessarily a One-Year Wonder
Now that we've shared some of the benefits, consider also San Francisco's weather patterns. Thanks to the sun and (mostly) comfortable weather, plants tend to thrive here. This includes annual flowers.
After giving out their burst of color, annuals also throw out their seeds before they die. This often translates into a surprise bloom of color the next year. However, (and again, thanks to the weather) occasionally those annuals will surprise you by lasting into the next year… and the next… and the next, before dying a dignified death at the foot of your now firmly entrenched perennial.
The Moral of the Story
Perennials serve their purpose in your garden, creating long-lasting plants to nurture, grow, prune and cultivate. They bring us the bright green bushes during the summer, beautiful bouquets in the spring and fall, and wonderful butterflies, birds and other wildlife.
However, annuals also serve their purpose. Although not long lasting, they are vibrant cousins to the perennial, taking up the places the perennials will not. If you want year round color, a full garden, and butterflies, don't neglect the annuals.
If you need help with your San Francisco landscape design, contact Tamate Landscaping. We can help you design the garden of your dreams, with the look you want no matter the time of year.