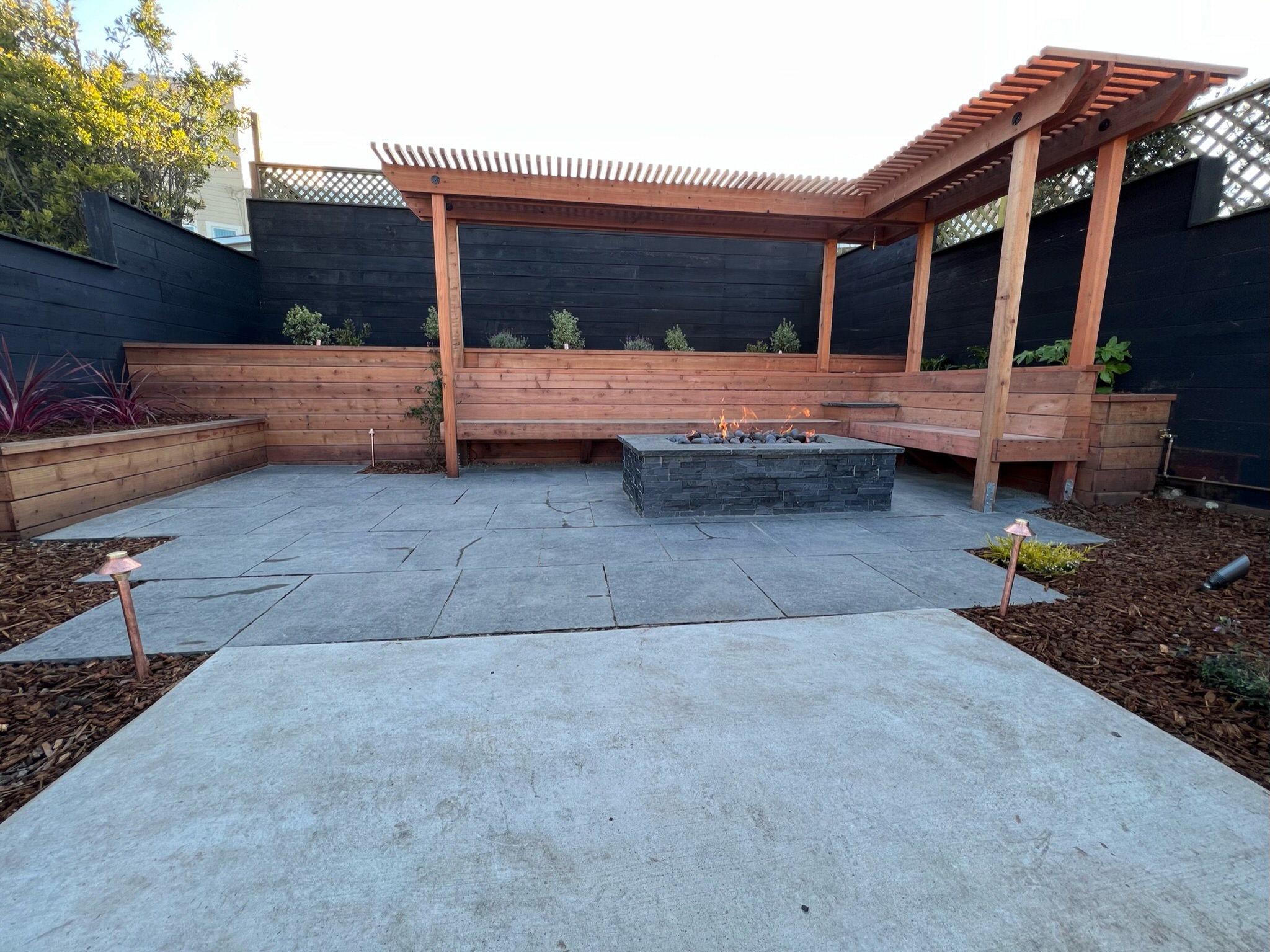 The front of your San Francisco home may be brimming with curb appeal, but is your backyard the relaxing outdoor refuge you deserve? When it's time to escape from the stress and chaos of city life, Tamate Landscaping has solutions to suit any size of property or budget.
Benefits of Professional Backyard Patio Design
Creating a backyard patio is a great way to transform your outdoor living space into an oasis of peace and relaxation. Whether you want to entertain guests, enjoy a quiet evening with family, or escape the stress of everyday life, a well-designed patio can be the perfect solution.
In addition to increasing the functional space of your home, your new patio design will allow you to enjoy the benefit of:
Space to relax and unwind
An escape from the stress of everyday life
Increased home value
Outdoor entertainment opportunities
But, there are a few considerations if you want to reap these advantages and get a solid ROI for your investment.
Backyard Best Practices: Optimizing the Space
1. Prioritize privacy.
It's difficult to enjoy privacy, especially if you're living in an overdeveloped suburb or crowded urban area. However, there are still a few ways to get the privacy you deserve. Consider a high privacy fence or outdoor screen to shield your sanctuary from prying eyes.
If you're not sold on fencing or space is a problem, consider hedges, a trellis with climbing vines, or large potted plants placed in strategic locations.
2. Keep pests from crashing the party.
Few things will ruin your outdoor enjoyment like unwanted pests taking up residence. From creepy-crawly critters to flying insects that spread disease, controlling the pest population should be a priority if you want a place to unwind or entertain. You may not be able to get rid of them completely, but you can certainly keep them under control.
Consider natural remedies like plants and candles that ward off mosquitoes. Citronella and lavender are pleasant and beautiful, but they're unattractive to many insect species. It's also a good idea to keep your patio free of clutter and debris, and tend to any places where standing water can accumulate.
If all else fails, a pest control company can help eliminate the problem.
3. Don't overlook security.
The whole point of creating a relaxing outdoor room is to feel at peace and free from worry. Make sure that your property is protected by adding motion sensor lighting and discrete video surveillance. Security features needn't be obtrusive, but they should be part of the build. Solar-powered lighting can charge all day and illuminate pathways or borders throughout the night.
4. Incorporate accent lighting.
Outdoor lighting isn't just a security feature. The right lighting, placed strategically, is an essential part of creating a relaxing backyard oasis. Consider adding outdoor string lights, lanterns, or other outdoor lighting fixtures to illuminate your patio design, create a mood, or enhance a cozy atmosphere.
5. Take advantage of vertical space.
Consider using vertical space to optimize your patio's potential, especially if you have to work within a small area. This can be accomplished by installing hanging plants, using wall-mounted lighting, and incorporating other vertical elements to create a unique and functional space.
6. Become one with nature.
Incorporating natural elements, such as rocks, wooden furniture, and greenery, can add an earthy and relaxing ambiance to your patio design. It also helps to maximize the space by working with the natural terrain surrounding your property. Even a retaining wall can work with the land while harnessing the elements.
Patio Design Inspirations You'll Love
Backyard patios can be more than just a slab of concrete or some pavers, patio furniture, and potted plants. Your options are really only limited by your imagination.
Due to our experience and innovative eye for landscape design, we can work within virtually any space limitations, terrain, or budget to give you results that will exceed your expectations on every level.
These ideas are meant to fire your imagination. Pick your favorite to expand with personalization or select a few of your favorite elements to come up with something that's uniquely your own:
1. Your own private island.
Create a cozy lounge where you can relax and unwind in peace and serenity. Screens, hedges, or a wall could shield your space from neighbors. A comfortable seating area with outdoor furniture, such as overstuffed chairs or a sectional sofa, offers a welcoming atmosphere for casual get-togethers with friends. Hang a hammock in the corner that's decked out with throw pillows and a blanket for those times you just want to snuggle up with a good book or a close friend.
2. Minimalistic Meditation Space.
Private backyard patios are ideal for morning meditation or becoming one with nature. Keep it clean and uncluttered, with muted tones and a focal point that's surrounded by elegant greenery. This is a relaxing fresh air backyard design idea that's perfect to pair with Tamate's Asian-inspired aesthetic.
3. Soothing Waters.
There are few things more relaxing than installing a tranquil pond or a bubbling waterfall in your backyard oasis. You could even place a water feature, such as a small fountain, to serve as a focal point. Add some tropical greenery, fairy lights or candles, and benches to build a space of quiet contemplation.
4. Beyond the Basic Barbeque.
Outdoor grilling and patios go together like peanut butter and jelly. But why be basic? We could work with you to build an outdoor kitchen that will be the envy of any neighborhood grill master.
Imagine a spacious table filled with friends or family under a pergola or at the poolside. Then add a well-stocked bar, refrigerator, and work island to create an ideal space to share meals and refreshing drinks with guests.
5. Warm, Welcoming Fire Pit.
Evenings near the Bay can be chilly, even during the summer months. Ward off the evening air with cozy nights by the fire pit. It's a perfect place to stargaze or share drinks and conversation with friends long into the evening.
Beyond the Basics: Maximize the Space With Decorative Accents
Once you have the focal points in place, personalize your outdoor space with accents that reflect your style and enhance the décor.
Decorative elements could include:
Hot tub and/or pool
Lanterns
Statuary
Lounge/bar
Candles and torches
Need some help to put it all together? Turn your backyard patio design over to professional landscapers in San Francisco.
Final Thoughts
The right patio design will take a basic backyard space and transform it into a relaxing backyard retreat. By incorporating elements such as comfortable seating, water features, and outdoor kitchens, you can create a space that caters to your lifestyle and preferences.
We hope these tips and ideas will inspire you to get started on creating your own backyard oasis today!
Contact Paul at Tamate Landscaping and arrange a consultation today. We've served the Bay area for more than 25 years, and we'll work closely with you to make your image of a backyard oasis a reality.